Based on its good performance in the past eight months and its business prospect, the textile and garment sector is likely to fulfill its export target of US$10.5 billion this year. However, the sector is facing a shortage of workers, a big problem many companies are seeking ways to resolve.
The sector's export turnover in the January-August is estimated at US$6,9 billion, with the earnings in August alone being more than US$1 billion, thus opening a possibility for the sector to fulfill, even surpass, its export plan this year.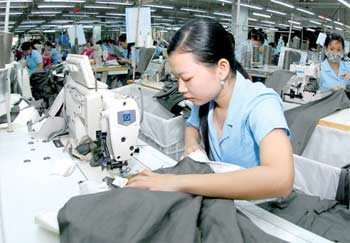 Workers at Saigon 3 Garment JSC in HCM City (Photo: SGGP)
To date, many textiles and garment companies have taken a lot of orders for delivery in the first quarter of 2011 and the export prices of these commodities have increased by 15-20 percent from 2009.
However, many businesses find it hard to boost exports in the rest of the year, since they have been facing a serious shortage of workers.
Gia Dinh Textile and Garment Corp., for instance, has seen only three of its 15 affiliates able to maintain their workforce. In many of these affiliates, the number of newly-recruited workers could not offset for the wave of resignation.
Similarly, Saigon Textile Company said its workforce has so far this year shrunk by 20 percent, of which 50 percent was dyers and weavers. To improve the situation, the company has lowered its requirements for recruitment but still failed to get new workers, especially young ones.
Along with the shortage of younger workers, the company has suffered the leave of many senior workers, in ages of 40-50. This situation has put a financial burden on the company, as it has had to make a great deal of payment for severance allowance.
The main cause for the wave of resignation was low pay, many experts said at a recent conference of the Ho Chi Minh City Association of Garments, Textiles, Embroidery and Knitting.
In fact, employers could not retain workers, especially those who are the city's permanent residents, when they offered them a salary of less than VND2 million (around US$102) per month, experts said.
In some provinces near the city, such as Binh Duong and Long An, such a wage rate also failed to stop workers from quitting, they added.
Considering the current living cost, textile and garment workers will not survive if their income is lower than VND2.5-3 million per month, experts said.
Nguyen An, general director of Saigon Garment Manufacturing Trade Joint Stock Company (Garmex), said the company has paid special attention to the life of workers so that they can continue working for the company.
Garmex is planning to offer an average salary of 3.5 million per month, Mr. An said, adding that eligible workers would be given 13th month pay at the end of the year.
Now with a workforce of 2,700-2,800, Garmex feels secure about its business prospect in the rest of the year, he said. 
Meanwhile, in addition to offering reasonable wage rates, Saigon 3 Garment JSC has cut down working hours as one of the solutions to prevent workers from leaving their jobs. 
 
Legamex, one of the leading garment and footwear manufacturers, has also given more support to its workers by building dormitories, offering breakfasts at cheap prices, and providing workers with idle machinery and equipment so that they can make products at home for extra income.