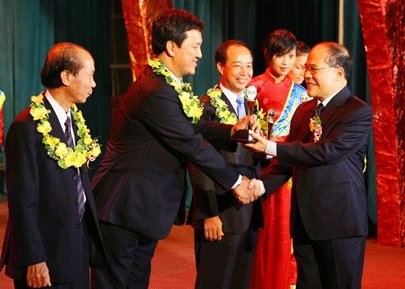 Deputy Prime Minister Nguyen Sinh Hung greets deputy general director of Viet Tien Garment Co. on October 31. (Photo: Saigon Times)
Nearly 80 textile and footwear manufacturers were honored October 31 in Hanoi for outstanding business results despite the industry being hit by the global economic recession.
According to Le Quoc An, chairman of the Vietnam Textile and Garment Association, many firms performed excellent business results, such as Hansoll Vina, whose export revenue topped US$240 million and Viet Tien, Nha Be, and Saigon 3 who managed revenues of over $100 million.
On the domestic market, revenue created by Phong Phu Textile reached VND1.5 trillion, Vinatex nearly VND1 trillion and Viet Thang VND650 billion.
Exports of textile and footwear industries are expected to top $13.5 billion this year, of which textiles accounted for around $9.2 billion.