The textile and garment sector is seeing positive signs, having received a number of large orders from new markets.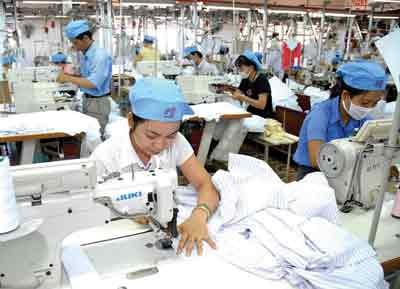 Workers at Viet Tien Company make shirts for export. The textile industry has seen a recovery, especially after Vietnam's trade agreement with Japan. (Photo: SGGP)
With exports in the first nine months reaching US$ 6.7 billion, the industry seems set to achieve this year's target of US$ 9.3 billion, a 3 per cent increase.
It will be one of the few sectors to see exports rise this year.
The Vietnam Textile and Apparel Association said some enterprises have orders for the fall-winter season. It is certain that the sector will gain the target of US$800million for three remaining months as the fourth quarter is the bumper month for textile and garment export.
Asian rivals like Pakistan, Bangladesh, and China have seen export orders fall while Vietnam has seen more orders from major markets like the US and EU.
With the recovery of the US's economy, orders from the giant market have resumed.
Vietnam's textile and garment industry has also managed to expand into new markets like Korea, Taiwan, Singapore, and Norway.
Japan, the country's third largest market, is now wide open to Vietnamese products after the signing of the Vietnam-Japan Economic Partnership Agreement (VJEPA), under which many of Vietnam's exports will have tax-free entry.
Garment exports to Japan have surged and the industry hopes to see at least 20 per cent growth this year.
Pham Xuan Hong, General Director of Sai Gon 3 Garment Joint Stock Company said his company had to reject some orders for fear of not being to execute them after exports to Japan rose sharply.
Exports to Japan accounted for 40 percent of exporters total sales last year, this year it is currently 60 percent.