Despite Vietnam's suitable climate and soil conditions for growing cotton, the country's total output of the commodity is currently not high enough to supply the domestic textile-garment industry.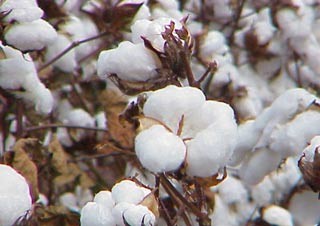 Vietnamese companies must annually import 70 percent of the needed materials.
Other raw materials for the local garment industry are also lacking, which means Vietnamese companies must annually import 70 percent of the needed materials, mainly from China, Taiwan ( China ) and India.
However, India April 13 announced it would temporarily stop exporting raw cotton to protect its own textile-garment sector, causing worry for Vietnam, which imports a huge amount of raw cotton from the country every year.
If the situation continues, cotton supplies around the world could become scarce, causing many domestic companies to face further difficulties in filling orders.
Many foreign companies have placed orders with Vietnam for fiber products since the beginning of the year and accordingly, most fiber produced in the first quarter this year was exported.
Vietnamese enterprises also stand to earn higher profits by exporting their goods, rather than selling them locally.
Presently, world cotton prices are around US$1.9 per kilogram, double the cost compared to the same period last year.
Many local companies are worried that the cost of importing cotton could continue increasing in the near future while they have already signed contracts to export textiles.
In addition, many domestic enterprises can only produce basic textile items due to a lack of raw materials.
Vietnam's textile-garment sector has shown great strength earning up to US$9 billion annually over last four year on signs the world's economy is recovering, leading to an increase in demand for the commodity.
However, due to the lack of raw materials, there is now only enough work at several local companies to employ workers three to four days per week.
In general, every year Vietnamese enterprises have to import between $2.5 and $4 billion worth of raw materials.
In 2009, Vietnam earned $9 billion in total turnover from garment and textile imports, but spent $5.4 billion on cotton, fiber and fabric.