According to the General Department of Vietnam Customs, the total import and export value as of November 2019 reached US$450.46 billion, up 7.6 percent compared to the same period in 2018. At the same time, Vietnam's trade balance reached a surplus of US$9.18 billion. Although textile and garment export turnover ranked third nationwide, after utilities and computers, the turnover was only US$28.54 billion, much lower than the set target.

Vietnamese goods are still being exported at 5 -25 percent tax rate instead of the expected 0 -5 percent, said Chairman of HCMC Association of Garment, Textile, Embroidery and Knitting Nguyen Xuan Hong, due to its ineligibility for reduced tariff under FTAs.
Foreign direct investment (FDI) in the textile and garment sector reached US$ 2.027 billion in 2018 and US$ 1,349 billion as of October 2019, according to the Vietnam Textile and Apparel Association (Vitas). Domestic businesses are still short of materials.
Meanwhile, materials produced by FDI businesses are sold within their closed support chains or to foreign parent companies. Therefore, domestic textile and garment businesses still need to import materials.
With a population of nearly 100 million and clothing consumption of about US$3.5-4 billion approximating 5-6 percent of total consumption, Vietnam holds great appeal for international fashion companies such as Uniqlo, Zara, or H&M.
Currently, large-scale textile enterprises in Vietnam are trying to cooperate with FDI companies to produce material supplies as well as textile products under their own brands to increase domestic market share. However, due to limited internal resources, many Vietnamese textile businesses can only make use of e-commerce and gradually cut down on traditional shops.
According to Vitas, export turnover is estimated to touch US$200 billion by 2035, and domestic market consumption will be around US$10 billion. The association proposed that the gov't should provide investment incentives to facilitate material production for domestic businesses.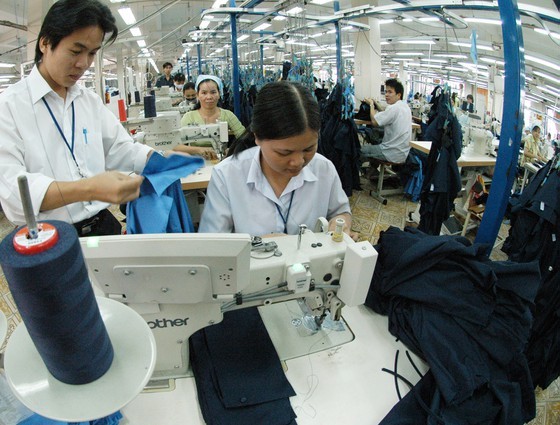 An exported trousers factory