Hundreds of factories in the northern province of Thai Binh's Tien Hai District are facing a desperate situation after investing in an area thought to be rich with natural gas reserves.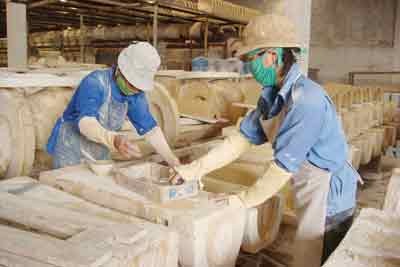 Workers make products at the Minh Thinh porcelain company in the northern province of Thai Binh. Like many others, the factory's operations are in jeopardy as its supply of natural gas has dropped drastically. (Photo: SGGP)
Shoddy research and a mushrooming of factories in the area, has seen gas supplies decline much faster than expected.
Business owners are now growing anxious as competition heats up for the area's limited gas supplies.
Several years ago, the government gave the green light to businesses to begin mining work after huge amounts of gas reserves were discovered beneath Tien Hai District.
Some 200 porcelain, enameled tile, glass and ceramics enterprises have operated in Tien Hai Industrial Park for more than nine years now, exploiting the area's natural gas reserves for use in their operations. The largest such factory in the province operates on 250 hectares of land.
The province's Department of Science and Technology said the reservoir of gas was estimated to provide output of around 20 million cubic meters a year when the industrial park was set up, but it dramatically decreased the next year to 16 million cubic meters, then 12 million and currently, just 7 million cubic meters yearly.
Deputy Director of the Thai Binh Department of Industry and Trade, Nguyen Tuan, said enterprises in Tien Hai demand 80-100 million cubic meters of gas a year, adding that reserves would continue to drop substantially over the coming years until they are fully depleted.
Entrepreneurs have spent vast sums on giant pumps and technology to exploit the gas, with little to show for it, said Bui Van Nghi, director of porcelain company Minh Thinh.
Due to the shortage, some factories are not working at full capacity and are producing less products of lower quality.

Company leaders at the Trang Tien Glass Company said if a replacement for the natural gas is not found quickly, the factories would be forced to shut down. The closure of the enterprises would leave around 30,000 workers unemployed.
The provincial People's Committee and the Vietnam National Oil & Gas Group (Petrovietnam) have drilled eight more mines in four districts of Thai Binh, but have not discovered any more gas.
Song Hong Petroleum, a division of Petrovietnam, also proposed a project to bring in liquefied petroleum gas mixed with the underground natural gas to ensure the continued operation of the factories. However, an agreement has yet to be reached with factory owners claiming Song Hong Petroleum prices are too high.
Bui Cong Nghia, head of the Technique Division of the Department of Industry and Trade, said porcelain, glass and enameled tile enterprises require clean gas for their operations. As such, many have now turned to mining coal gas to continue operating. 
However, many factories can't afford to use such technology and are currently purchasing retail gas instead. The Hao Canh porcelain company is one such business and says that as a result of having to buy more gas, the price of their finished products has increased by 5 percent.