PHUKET, Thailand (AP) -- A leading meteorologist, who warned a tsunami could strike Thailand seven years before one hit, said Tuesday that coastal hotels and resorts are still unprepared for another killer wave.
"At the moment, they (hotels) do not even have a map or instructions to tell the guests what do" in a tsunami, Smith Thammasaroj said Tuesday.
He spoke a day after thousands of Thais and visitors gathered on beaches to mourn the dead from the tragedy last Dec. 26.
He said tourist facilities along the Thai coast, where the tsunami killed nearly 5,400, have not yet hooked into the well-functioning National Disaster Warning Center -- which would give them quick notice of an approaching tsunami or other disaster.
Smith, the center's deputy director, headed Thailand's meteorological department when he was accused of scare-mongering after he warned in 1998 that the country's southwest coast could face a deadly tsunami.
Criticized then for causing panic and jeopardizing the critical tourist industry around the tropical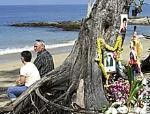 Visitors returned to Thailand for the December 26 anniversary of the tsunami.
resort island of Phuket, Smith retired under a shadow.
He was rapidly returned to government service when his prediction proved accurate.
Meanwhile, Indonesia tested its tsunami warning system for the first time Monday, sounding alarms in a town that sent thousands of residents running through the streets.
The organized drill was held in Padang, western Sumatra.
The head of Indonesia's meteorological agency, Sri Woro Budi Harijono, sent a warning to the mayor of Padang after receiving dummy data from an earthquake sensor on the ocean floor.
Sirens wailed and 2,000 residents -- many of them women and children dressed in school uniforms -- fled to a predestined evacuation area on a hill.
An ambulance and firetrucks followed.
In the event of a real tsunami, Harijono said his agency also would have sent mobile phone text messages to residents and to authorities in eight Asian nations.