As Vietnam continues to remain a magnet for foreign investment, Thailand 's companies are now starting to look at their neighbor in a different light, with delegations of business executives flocking to the country, reported the Bangkok Post on May 23.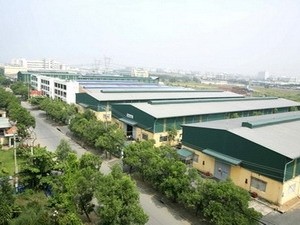 An economic zone in Binh Duong Province (File)
The newspaper quoted factors such as Vietnam's lower wages, a young, ample workforce, consistent GDP growth and less regulation luring foreign businesses to invest, while the rise in Thai wages and other costs make Thai businesses lose some competitiveness in export markets and narrows their capacity to see more opportunities abroad.
In order to encourage Thai businesses seek investment opportunities in Vietnam , Thailand 's largest commercial bank, Bangkok Bank, arranged for 30 Thai businesses to visit the southern province of Binh Duong in Vietnam on April 30.
Speaking at the visit, vice-president of Runckel & Associates, Soraya Runckel said Binh Duong offers substantial opportunities in manufacturing, retail sales and services. She said the province has many attractions for foreign investors, such as a convenient location and large industrial zones with much of the infrastructure already under construction or completed.
Additionally, the province has a number of labor training and human resource management centers, with a system of seven universities including one international university, the Eastern International University .
She revealed Thai investors highly appreciate Vietnam 's economic development over the past 15 years and expressed her belief that the country would continue to maintain its growth rate in the future. She said Vietnam 's young population provides investors with stable, long-term labor resources and low wages, with a large pool of consumers.
Moreover, the Vietnamese Government has amended various laws covering investment, enterprise, land, and business competition to make them more favorable to foreign investors.
Binh Duong province leaders spoke highly of Thai businesses coming to operate in the province and committed to soon completing construction of infrastructure and simplifying investment procedures while reducing regulations and advising on lending sources.
Thai investment in Vietnam has been located mostly in the Southern Key Economic Zone (SKEZ) including Ho Chi Minh City, Binh Duong, Dong Nai and Vung Tau, which generates 75 percent of the country's revenue.