The European Union began its anti-dumping proceedings against leather shoes from Vietnam in July 2005. In this lawsuit, the European Confederation of the Footwear Industry represents EU shoe producers. It claimed that 62 Vietnamese shoe exporters' dumping rate was 130%, with figures collected from April 1, 2004 to March 31, 2005.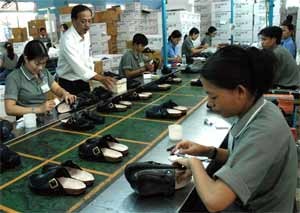 At a leather shoe factory in Viet Nam
Among these 62 producers, one is a foreign company and most of the others are members of the Vietnam Leather and Footwear Association (Lefaso). The association has 115 members in all including material suppliers, and most of its shoemakers are facing the lawsuit.
But a fact is that foreign shoe producers in Vietnam hold up to 70% of the country's footwear export revenue.
Statistically, among 100 pairs of shoe shipped from Viet Nam, 70 come from foreign companies, 21 are made by Vietnamese companies under outsourcing contracts, and nine pairs exported by Vietnamese companies via brokers.
Among the 62 defendants are 24 in Ho Chi Minh City and 12 in neighboring provinces, according to Lefaso.
The EU claimed that producers in Vietnam dump shoes of 30 designs, divided into three groups. Group A comprises shoes for men and women, Group B consists of men's shoes, and Group C's items are women's shoes.
In the beginning of the lawsuit, EC determined the dumping rate for Vietnam based on Brazil's production cost. But it later decided to base on Indonesia instead of Brazil.
Related Articles:
EC Asked to Suspend Shoe-Dumping