Local retailers are facing enormous challenges from the presence of global retail giants though Viet Nam hasn't opened up its retail market completely.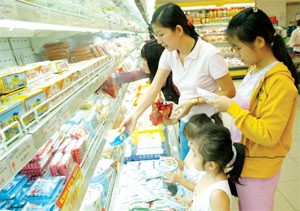 At Co.op Mart Ly Thuong Kiet supermarket (Photo: SGGP)
And things will get tougher when the opening does happen next year as part Viet  Nam's World Trade Organization commitments, say experts.
 
Many Vietnamese firms that produce and trade commodities which have not been opened to global retailers have been sold to foreign companies.
 
Retail giants like German-based Metro Cash&Carry and France's Big C Bourbon are already present in the country's big cities, squeezing local retailers out of the market.
 
Dinh Thi My Loan, vice chairwoman and general secretary of the Association of Vietnamese Retailers, said at a Wednesday workshop on opening the retail market that Vietnamese retailers shouldn't be worried so much because under the WTO commitments, they are allowed to set up only one initial retail outlet each.
 
The establishment of outlets beyond the first one shall be approved on the basis of the so-called Economic Needs Test (ENT), she said.
Each such outlet requires a license which is granted on the basis of three criteria: existing service suppliers in a particular geographic location; the stability of market; and geographic scale.
For opening additional retail outlets, authorities are required to examine not only the number of existing outlets in a particular area, but also its population density. They also have to examine whether the new project confirms to the plans made by the government for a particular area.
The ENT requirements can help mitigate the threat of the open market, Ms. Loan said.
 
However, she noted that the most serious challenge is the buyout of local firms making or trading commodities which are not opened to foreign retailers.
 
According to WTO commitments, which are similar to commitments made under the Viet Nam-U.S. Bilateral Trade Agreement in 2001, Viet Nam will not open its retail market for ten commodities including fuel, medicine, books, magazines, newspapers, video, cigarettes, rice, sugar and precious metal.  
 
For commodities such as steel, iron, fertilize and cement, Viet Nam will open its doors on November 1, 2010, or three years after the country's WTO accession.
 
Ms. Loan observed that the merging and acquisition (M&A) trend is now prevailing in the world and Viet Nam.
 
As many as 46 M&A transactions worth US$626 million were conducted in last year's first six months, double that of 2006. And in many pharmaceutical companies, foreign companies are holding 30 percent stakes, she added.
Related article:
Viet Nam to Open Up, Retailers Brace for Global Onslaught