On June 17 (3rd day of 5th lunar month), many kinds of traditional food and fruit for the Double Five Festival were being sold in supermarkets, markets and stores around HCMC.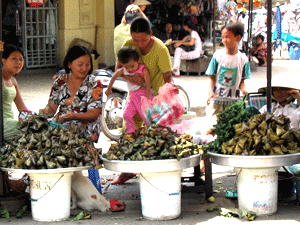 Banh u (square-shaped dumplings) are being sold in the street markets

The Hanoi bread bakeries on Le Thi Rieng, Nguyen Thien Thuat and Le Van Sy were preparing over 6,000 Banh U (square-shaped dumplings) and about 100 kilos of Northern-style rice in wine and Southern-style rice in wine made from glutinous rice.
Many other types of traditional food, including roast chicken, white bean sweet soup and glutinous rice cooked with split peas were available for the festivities. 
 
Co.opMart supermarkets and Hanoi supermarkets are stocking twice the usual amount of local fruit. 
 
The Nguyen Dinh Chieu Co.opMart and Cong Quynh Co.opMart have also been selling many additional products for this festival, many of which have been made by their own employees. The excellent quality litchis from the northern town of Thanh Ha are packaged beautifully and are on sale for VND 14,700/kilo. 
 
At An Dong Market, Phung Hung Market and Thiec Market, home to a large number of Chinese residents, there are many kinds of square dumplings stuffed with dried shrimps, mushrooms, salted duck eggs or roast pork sold at the price of VND 20,000 or VND 30,000 each depending on their size and quality. 
 
Meanwhile, at Tan Dinh Market, Ba Chieu Market and Nguyen Dinh Chieu Market, they are selling square dumplings made in Hoc Mon, Binh Chanh and Thu Duc districts.
 
At the Ho Thi Ky flower market, in addition to tuberoses, gladioluses, daisies and carnations, customers can also find bunches of leaves from gum tree, cactus, mulberry and grasslemon; all of which are traditionally hung at the front door to keep the insects away.
 
Compared with last year, the prices of these products have increased dramatically. For example, the price of a dozen of square dumplings was VND 14,000 last year but this year the same quantity cost VND 20,000. 
 
Explaining the increased price, the accountant of Hanoi bakery on Nguyen Thien Thuat Street said that the prices of rice, peas, leaves and gas have increased so traders must increase the prices of their products.
 
Because of this festival, the price of fruit in many markets has also increased in spite of their plentiful numbers.