Dau Xuan Ngoc, director of Thien Truong Joint Stock Company, said March 18 the company will start legal proceedings against Ford Vietnam for problems related to the 2007-model Ford Transit minivan, of which Thien Truong owns five.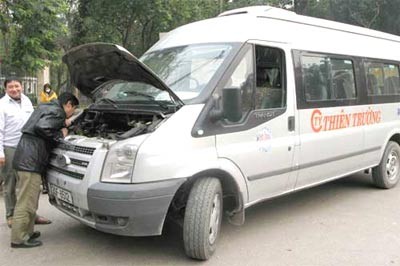 One of five 2007 Ford Transit minivans owned by Thien Truong Joint Stock Company (Photo: Tuoi Tre)
The company has complained of sudden, unexpected acceleration in the vans without driver input.
Mr. Ngoc said Thien Truong will sue Ford Vietnam for not providing customers with information and instructions related to new vehicle features when launching products in the market.
In addition, the company will report to the US Embassy in Vietnam about Ford Vietnam's disrespect for Vietnamese customers and for failing to inform them about Ford's products, he added.
Mr. Ngoc said that besides retaining lawyers to handle the suit, Thien Truong will hire an independent and prestigious foreign agent to inspect features of Ford Transit minivans manufactured in 2007.
The company will also ask the Vietnam Registration Authority to check technical features of 2007 Ford Transits, Mr. Ngoc added.
He said Thien Truong had received a reply from Ford Vietnam about the company's five Ford Transits, adding that the response did not differ in content from what Ford told the press on March 17.
In the letter, Ford said the [gas compensation feature] was a technical feature designed for 2007 Ford Transits, and not a technical error. It asked Thien Truong to take the vehicles to Ford Authorized Service outlets for inspections to ensure they have correct technical specification.
If Thien Truong is still not satisfied with the situation and wishes to eliminate the gas compensation function, Ford Vietnam said it would find a solution to detach this feature.
Bui Danh Lien, chairman of the Hanoi Transportation Association, said on the same day that his association has posted newspaper alerts asking 2007 Ford Transit owners to come forward if they have experienced similar instances of sudden acceleration in their vehicles.
He said two other companies in Hanoi and some in Son Lai and Lai Chau provinces have reported the same situation in their vehicles.
The two companies in Hanoi are Thang Long Transport Cooperative, which owns three Transits, and Transport Service Cooperative No. 1, which owns one of the vehicles.
Mr. Lien said that despite Ford Vietnam's claims that the gas compensation feature was a deliberate, technical design, the feature is problematic.
"Ford Vietnam has the right to apply new features to its vehicles, but it has to introduce the feature to customers, and the feature has to be appropriate to conditions in Vietnam," he said.

Thien Truong Co., which provides cargo and passenger transport services, and headquartered in Hanoi, purchased the minivans from a Ford Thu Do sales agent in December 2007.
Mr. Ngoc said the acceleration problems were discovered immediately after the company received them.
Thien Truong continued using the cars until March 10, 2010, before asking Ford Thu Do to fix the problems.
"Ford Thu Do told us that this is a very new kind of error which it has never seen, and therefore, they cannot fix it," Mr. Ngoc said.
At a press conference in Hanoi on March 17, Michael Pease, Ford Vietnam's general director, said, "There is no malfunction of the feature in Ford Transit 2007, and there was absolutely no relation of this issue to cases of unintended acceleration from other manufacturers. This is a completely separate issue."
He said the model had a "Steady State Drive Feature" that enables drivers to drive at a constantly low speed in all gears with no accelerator pedal input required.
This speed is dependent on the target idle speed and the selected gear, and is designed to provide the best trade-off between vehicle NVH (noise, vibration and harshness), for which higher rpm (revolutions per minute) speed is desirable, and vehicle drivability at slow speeds, for which lower rpm speed is wanted.
In first gear this provides a "steady state" speed of about 8 km/h in first gear and progressively higher speeds up to 40 km/h in fifth gear.
To achieve these target speeds, the idle speed controller will shortly over-compensate with a higher rpm and vehicle speed until the steady state condition is ready within a few seconds, Mr. Pease said.
He told the press that "Our engineers have determined that these speeds are the optimal balance for vehicles under normal operating conditions."