Thousands thronged to a housing site in Ho Chi Minh City on Thursday and Friday hoping to register to purchase apartments despite skyrocketing prices. Some candidates even hired other people to sleep through the night at the site, in a bid to secure an apartment.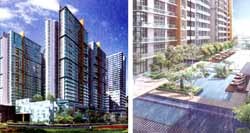 The Vista complex in district 2
After an announcement that the Vista apartment block in District 2 was going to open for registration at 9am on Friday at its site, huge crowds began to line up. The apartment complex, which is yet to be built, was crowded with people from as early as 3pm the previous day, during the extreme heat.
At 10.00pm, Sai Gon Giai Phong witnessed hundreds of motorbikes and cars chaotically positioned on Giang Van Minh Street. By that time, some people had grown tired and hired others, mostly local youths and motorbike taxi drivers to occupy seats for them to reserve their turns. The initial fee of VND500,000 per person shot up to VND3 million within minutes due to high demand.
Mr. Thanh, a motorbike taxi driver reported that he was hired by one person for an unbelievable $1,000 just to sit and sleep among the crowds until the houses were publicly sold the following morning.
At 11.00pm, several disturbance and fights occurred, which drove local police to the area to disperse the crowd. People continued to line up minutes later despite the police presence.
At 7.00am the next day, thousands - mostly manual workers, students, motorbike taxi drivers and not the investors themselves, were standing, sitting, queuing in zigzagged queues. A loudspeaker announced that customers must have ID's and $2,000-$5,000 in cash as a deposit to be eligible to register.
This understandably sent shockwaves through the tired mob who had been waiting all night. They shouted, waved their hands and rushed to call their relatives or employers to bring money.
Ms. Quynh Anh who successfully registered to buy a 135m2 apartment at nearly $3,000 per/m2 told Sai Gon Giai Phong that the price had gone up twice in four months.
At 12 noon on Friday, the pushing and shouting had not relented. A Vista customer attributed the frenzied purchases to the expectation that Vista prices would likely continue their upward trend.
Prices were only around $1,500 per/m2 recently but now it has skyrocketed to $2,400-3,000 per/m2. "You see, you only need to wait a little while to make a big profit", he told Sai Gon Giai Phong.
Your journalists saw a man agree to buy a Vista apartment on the spot for $10,000 higher than the original price, as he had failed to grab one at the prime time.

Is it legal?
According to a housing law effective as of last year, enterprises are banned from raising money through the selling of houses when their foundations have not been built.
The Vista base has not been laid, admitted Pham Quang Hang, chairman of Phu Gia Investment Shareholding Company. This company is a joint investor of Vista, together with Capitaland Vietnam Holdings Pty Ltd and Thien Duc Construction Trading Company. The base will start to be laid in a month, he added.
The Vista apartment complex boasts 750 high-end apartments on a 2.3 hectare expanse. This is the third selling of the fourth apartment lot, said Chen Lian Pang, CEO of CapitaLand Southeast Asia.
Will the interest spark great profit potential for those lucky enough to purchase an apartment?