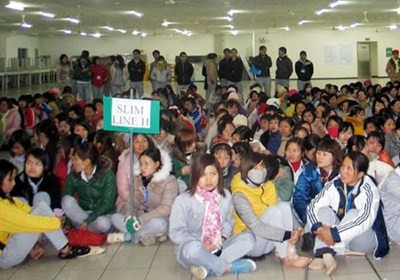 Workers of Sanyo
Japanese electronics manufacturer Sanyo laid off 3,750 workers due to loss making, from their factory in Bac Giang Province.
Le Quang Trung, deputy director general of the Department of Employment under the Ministry of Labor, Invalids and Social Affairs confirmed the news on January 15.
The company has terminated 3,750 contracts after it faced low profits and loss-making. To support unemployed workers, six other enterprises have offered to recruit these workers.
The province also opened a job fair to allow enterprises to interview the jobless workers.
The Sanyo electronic component factory at Quang Chau Industrial Zone in the northern province of Bac Giang broke ground in September 2008. Built over 60,000 square meters at an initial cost of US$95 million, the factory is Sanyo's third in Vietnam, the first being the home electric appliances factory in the northern region and the second producing digital cameras in the southern region.