The Department of Finance in Ho Chi Minh City has penalized three gas companies for not notifying the department before increasing gas prices.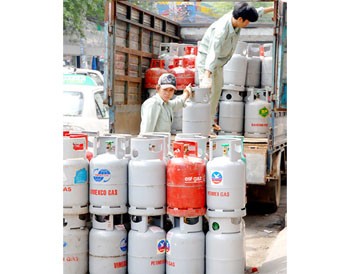 Three gas companies penalized for not notifying concerned authorities before raising prices (Photo: SGGP)
Shell Gas Vietnam, Total Gas Vietnam and Petrolimex Saigon Gas were fined VND20 million (US$950) each for increasing gas prices without the required permission of the finance department, which needs to be notified much in advance.
At the beginning of January, the three above companies had hiked the retail price of gas by VND24,000 for a 12kg cylinder. On January 4 they once again hiked the price by VND80,000, resulting in the cost of the cylinder to go up to VND383,000 ($18.24).
 
Explaining the latter hike, the companies explained that this was because of an increase in import tariff from 2 to 5 percent.
Although the price increase on January 4 is justified, the three companies should have informed the finance department in advance, said Nguyen Thanh Binh, chief inspector of the department.