A total investment of nearly VND13 trillion (US$703.85 million) was pledged for the Mekong Delta's Tien Giang during a conference January 29 on investment promotion in the province.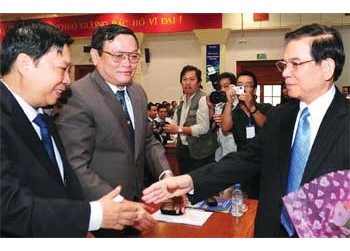 President Nguyen Minh Triet (R) meets with delegates at an investment promotion conference held for Tien Giang Province on January 29 (Photo: SGGP)
More than 1,300 local and foreign businesses participated in the event, making it the largest ever of its kind in the province.

Of the pledged capital, VND3.18 trillion ($172.2 million) was committed from nine companies that also received investment licenses at the conference. They included the Golden Resources Development Ltd. from China's Hong Kong; Khang Thong Construction Trading and Service JSC; Tien Giang Investment and Construction JSC; Dai Ngan Co., Ltd.; Nguyen Tat Thanh College; Duc Viet Environment Technology JSC; Mekong Oil and Gas JSC; Dream Mekong Co., Ltd.; and Thien Ha Seafood Co., Ltd.
The remaining capital will be sourced from MoUs signed between local authorities and 13 other investors.     
Speaking at the event, President Nguyen Minh Triet said, "Investors do not miss opportunities to invest in Tien Giang, which belongs to the Southern pivot economic area and is the gateway to the East Sea for provinces along the Tien River."
The province is endowed with favorable geographical characteristics, including some major traffic axes and around 32 km of coastline, he added.
Chairman of the provincial People's Committee, Tran The Ngoc, said the conference was aimed at calling for investment in 117 projects totaling around $10.6 billion.
Of these projects, 23 are related to industries; 18 to urban and residential construction; 14 to tourism; 21 to trade and services; five to agriculture; 10 to traffic; and the rest to other areas.
To create favorable conditions for investors – in addition to special Government policies – local authorities will offer other incentives such as the reduction or exemption of land-use fees, tax breaks, assistance in trade promotion, occupational training, and more, Mr. Ngoc said.
Speaking to participants at the conference, the President said, "Investment in Tien Giang not only helps the province tap its economic potential for development but also contributes to the overall development of the country."