The government has instructed state-owned groups and corporations to reduce non-feasible investment projects with low efficiency in an effort to reduce public spending. The move created opportunities for state-own businesses to restructure their operation and investment portfolio, officials said.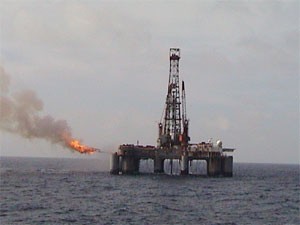 View of Dai Hung offshore drilling rig off the coast of Vung Tau City. PetroVietnam Group halted 64 projects with a total amount of VND6.6 trillion, of which 19 were canceled and 45 were temporarily delayed, said general director Phung Dinh Thuc (Photo:Phan Hien)
Ho Nghia Dung, Minister of Transport, said the funds raised for transportation projects via government-bond issues will be cut by half to VND11 trillion (US$550 million), which will be allocated to the projects expected to finish this year.
The projects preparing to kick off or waiting for licenses will be halted, Dung added. No construction firms announced plans on reducing their investments.
Nguyen Hiep, chairman of the Housing and Urban Development Holdings, said the group was checking investment projects that were submitted in the business plans in 2011 in order to cancel non-feasible ones with low efficiency.
"Investors and contractors will have to restructure their investment projects if they want to tighten their budget. I believe it is now the time for state-owned groups and corporations to restructure their investment portfolio," said Cao Viet Sinh, deputy minister of planning and investment.
Statistics show the state utility Electricity of Vietnam, known as EVN, made the biggest reduction.
The state-owned power supplier company has planned to delay nearly 300 projects and construction works, said Duong Quang Thanh, deputy general director of EVN.
EVN has also sold its stakes worth VND414 billion ($20.7 million) in some joint-stock companies and reduced fund for construction projects by more than VND11.5 trillion, Thanh told Dau Tu Tai Chinh Newspaper.
Vietnam's leading oil and gasoline provider PetroVietnam Group followed a similar pattern, halting 64 projects with a total amount of VND6.6 trillion, of which 19 were canceled and 45 were temporarily delayed, said Dr. Phung Dinh Thuc, general director of the group.
Thanh said PetroVietnam will still ensure the progress of the projects, which are in major sectors including crude oil exploiting and refining.
Another giant in fuel sector – Vietnam National Petroleum Corporation (Petrolimex) – also announced that it has delayed some projects and held off the construction works on improving the headquarter in an effort to save capitals for production.
"The Vietnam National Textile and Garment Group (Vinatex) will delay some projects to keep this year's total investment amounting to around VND6.75 trillion, a 35-percent decrease from the target," said Le Tien Truong, deputy general director of the group.
"We will focus solely on solving problems and difficulties, which are affecting the production, and keep close eyes on input expenses," Truong added.
Tran Xuan Gia, former minister of planning and investment, noticed that the current difficulties of the economy created opportunities for local businesses to solve problems in public spending management.