Vietnam Expressway Corporation (VEC) yesterday proposed the Ministry of Transport to permit a toll increase of VND500 in Cau Gie-Ninh Binh expressway taking the total fee to VND2,000 a kilometer.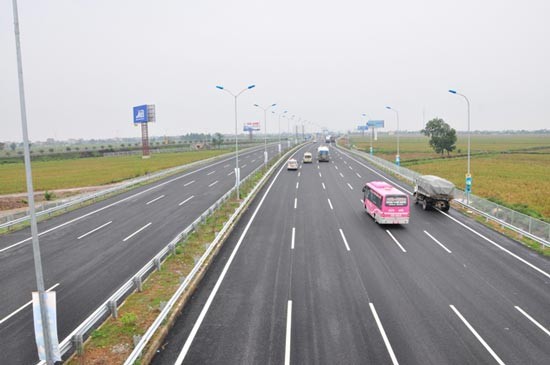 Cau Gie-Ninh Binh Expressway (Photo: SGGP)
According to VEC, since December last year it has invested VND590 billion (US$26.48 million) in an asphalt concrete friction course and other auxiliary items to ensure traffic safety, broaden toll booths and equip an intelligent transportation system.
Owning to these, the maximum permissible speed in the expressway has been increased to 120 kilometers an hour.
In addition, consumer price index has hiked 21 percent over November 2011, when the expressway was opened to traffic, while VEC has still kept the toll level unchanged at VND1,500 a kilometer.
The expressway has been built parallel with National Highway 1A, where vehicles can travel free of charge, so drivers can choose either of these two routes to suit their itinerary and time, VEC says.

The first phase of Cau Gie-Ninh Binh expressway stretches 50 kilometers. Since opening to traffic, it has contributed in reducing traffic accident and congestion in the National Highway 1A, shortening travel time by half and cutting transport cost by 15 percent compared to the highway.