The Vietnam Report Joint Stock Company (Vietnam Report) announced the list of top 500 Vietnamese companies in 2010 (VNR500) and presented insignia to the winners in Ho Chi Minh City on Jan. 15.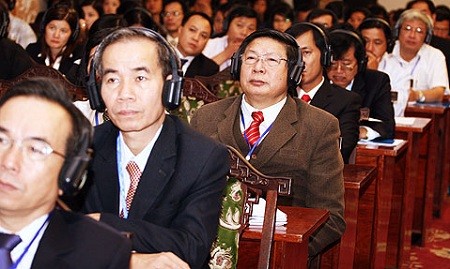 Delegates at the meeting held in Ho Chi Minh City January 15, 2011 to announce the list of top 500 Vietnamese companies in 2010 (Photo: VietnamNet)
This was the fourth consecutive year the VNR500 was announced to recognize and honor achievements made by the Vietnamese business community.
The Vietnam National Oil and Gas Group (PetroVietnam) topped the list of five largest State-owned enterprises, followed by the Vietnam National Petroleum Corporation (Petrolimex), the Electricity of Vietnam (EVN), the Vietnam Posts and Telecommunications Group (VNPT) and the Vietnam National Coal Mineral Industries Holding Corporation Ltd (Vinacomin).
The top five largest private businesses included the Saigon Gold and Silver ACB-SJC Joint Stock Company, the Corporation for Financing and Promoting Technologies (FPT), the Asia Commercial Joint Stock Bank (ACB), the Vietnam Dairy Products JSC (Vinamilk) and the DOJI Gold and Gem Group.

On the occasion, nearly 400 leaders from VNR500 businesses attended a forum themed "Large businesses and their leading role". The VNR500 Forum 2011 also drew the participation of leading experts in and outside the country, including Prof. Stephen M. Walt from the US-based Harvard University and Alex Malley, CEO of the Australian Association of Certified Practising Accountants (CPA Australia).
According to the participants at the forum, large businesses should not only focus on business operations but also have an important and active leading role in addressing social issues such as education, health, and diplomacy.
They agreed that businesses are a part of the society and their development must go along with the development of the society.