Vietnam National Administration of Tourism (VNAT) held a conference in Hue ancient capital on March 19 following the recent launch of the new tourism promotion campaign 'Vietnam - Your Destination' in the central provinces.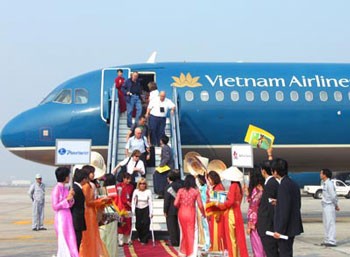 The tourism industry expects to receive 4.5-4.8 million foreign visitors in 2010
The new campaign comes on the heals of the success of the 'Impressive Vietnam' campaign in 2009 supported by tourism agents and provinces nationwide.
The VNAT General Director Nguyen Van Tuan stressed that provinces in the central and highland regions should take advantage of their history and culture to develop tourism.
Central provinces are known for their beautiful beaches, islands and islets, making them attractive to travelers and tourism investors.
Last year saw 3,772,000 international visitors, a year-on-year decrease of 10.9 percent, with revenue of about VND70 trillion.
According to Vu The Binh. Head of the Travel Department under the VNAT, this year's tourism promotion campaign will offer several outstanding activities including the "Impressive VN Grand Sale 2010" in the off-season between August and September and a tourism festival marking the 1000 anniversary of Thang Long-Hanoi in France in June.
The government will also encourage overseas Vietnamese to return home to draw more international friends to visit the country.
A promotion program for visitors already in the country, 'Vietnam - Warmly Welcomes You All' will feature gifts, cultural and music events, an environmental cleanup, better public toilets in all cities, more tourism centers and highways.