After launching an overall inspection over Dai Nam Joint Stock Company--runner of Dai Nam tourist park--in the southern province of Binh Duong, the province's inspectorate has required the company to pay nearly VND100 billion (US$4.47 million) in tax and fine for administrative violations.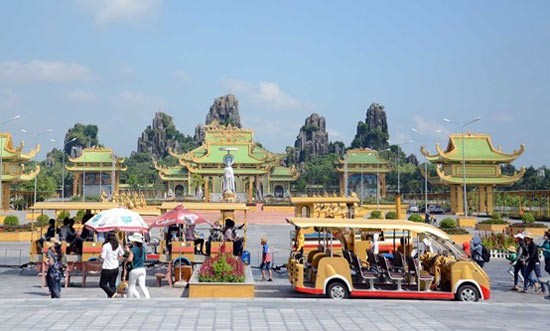 Dai Nam tourist park has been built and operated without land use right certificate (Photo: SGGP)
At a news conference held by the province's People's Committee yesterday to announce the inspectorate's conclusion, committee permanent deputy chairman Tran Thanh Liem said that the conclusion had been made and validated by the committee's chairman after four months of inspection from January till May.
In 2009-2014 when Mr. Huynh Uy Dung was director general of Dai Nam Company, it used 25.2 hectares of land for the tourist park without land use right certificate.
The company has also used land for purposes different from construction licenses, for instance, it has divided a land pierce meant for a three storey apartment block into smaller plots for sale at Song Than 3 Industrial Park.
The company has failed to accord with the province's policy to build a cardiovascular hospital in Di An urban residential area project, constructed a commercial center since 2001 which has yet come into operation, and not contacted the province Department of Natural Resources and Environment to sign contract appendixes for land area purpose changes.
Dai Nam Company has built the tourist park before asking for plan adjustments and setting up files to legitimatize it.
Four items have been changed compared to construction licenses, 167 items done before licenses were granted and four works built outside plan.
In addition, the company has made some accounting mistakes and breaking some tax regulations, resulting in tax payment reduction.
Mr. Tran Thanh Liem said that authorized agencies had not regularly inspected Dai Nam Company partly because of its positive contributions to the province's economic development, creating conditions for the company to violate regulations.
The province's leaders will propose to held relevant teams and individuals responsible for the case to learn lessons from it.