CJ, a leading food company in South Korea, is expanding its Tous Les Jours bakery network in Vietnam, where it opened the first eatery in 2007.
 
According to Nam Young Hyun, general director of CJ Bakery Vietnam, his company has plans to develop its franchise chain nationwide to about 200 Tous Les Jours eateries.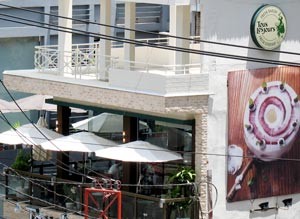 The 4th Tous Les Jours bakery in HCM City, at 187 Nguyen Thi Minh Khai St., District 3, opened last week (Photo: Tuong Thuy)
Tous Les Jours in French means every day, and the name expresses the bakery's commitment to making fresh bread every day. Modern in style, Tous Les Jours offers a wide selection of breads, sandwiches and drinks.
CJ opened its fourth Tous Les Jours shop in Ho Chi Minh City last week. The Korean company will open two more eateries here this year, according to Nam Young Hyun.
The first Tous Les Jours bakery opened in the city in mid-June, 2007
 
Nam said he expected the first Tous Les Jours eatery in Hanoi would open in the third quarter of next year, and then more shops would be set up in other cities.
CJ currently has Tous Les Jours bakeries in Korea, China and the US.