The Vietnam Register, a government agency responsible for vehicles' safety, said Thursday it received a communication from Toyota Vietnam saying it will carry out free repairs on faulty cars.
The document said the Japanese company will check and repair Innova vehicles with technical problems related to brakes, screws, and seats.
But Toyota did not make a public announcement about the recall plan by Thursday afternoon. It had earlier ruled out a recall, saying the flaws are minor.
Do Huu Duc, deputy head of the Vietnam Register, said the communication is a positive sign of Toyota taking responsibility for its products but the company must soon announce plans.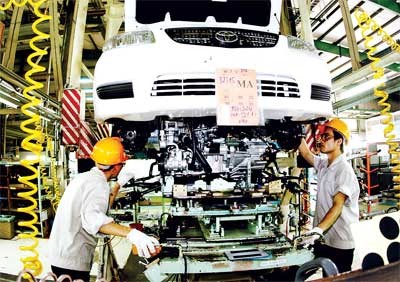 Workers make cars at Toyota Motor Vietnam's plant (File photo: SGGP)
Another senior official from the Vietnam Register said the fact that Toyota has sent such a document means it is preparing to recall all faulty vehicles.
Earlier Le Van Tach, an engineer working for Toyota, had released documents revealing three major glitches in Innova and Fortuner vehicles.
The cars made in Vietnam face balance issues since their screws are not tightened properly as instructed by the Japanese company, he said. The brakes and seats do not meet safety standards either, he said.
He blamed them on outdated equipment used at Toyota Vietnam's factory.
Two of the glitches are likely to take a long time to fix and only Toyota can fix them since they require special tools and training, he explained.
At a press briefing on April 1, Toyota had admitted to these problems in nearly 9,000 Innova cars, saying they could have a bearing on safety.
Camry also suffers flaws?
Toyota sent another communication to the Vietnam Register saying it will recall and check all Camry 3.5 and Camry 2.4 models produced between January 28 and March 23 this year.
Many of the vehicles have a problem with bolts, it said.
Toyota is the largest and most popular carmaker in Vietnam, with the Innova being especially popular and used by many taxi companies.
The company sold 2,223 units last February.