Engineer Le Van Tach, currently working for Toyota Motor Vietnam (TMV), has rejected at least 63,998 cars of Toyota Innova and Fortuner models for faulty installed parts.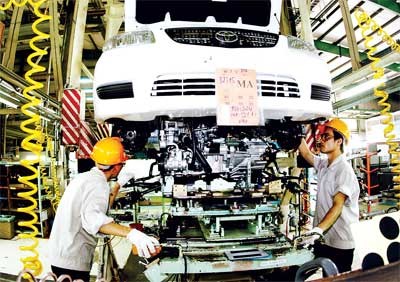 Workers make cars at Toyota Motor Vietnam's plant (File photo: SGGP)
This major technical blunder occurred when TMV engineers misunderstood the car designers' technical instructions.

Mr. Tach disclosed that about 48,780 more cars have technical problems with the car seat screws, after dispatch from the factory. Later the same problem reoccurred when TMV increased production.
TMV assembles over 1,000 Innova and Fortuner models every month, therefore, the same problem continually reoccurs. However, TMV claims the number to be 1,058 units.
On April 1, TMV admitted that there were technical problems with nearly 9,000 cars of the Innova model. However, engineer Tach refuted that number to be much bigger.
TMV said the technical faults would not endanger the safety of people.
Mr. Tach vetoes the carmaker's assertion as only some cars are tested and at a speed rate of only 60-100 kilometers per hour, while the designed speed rate is 200 kilometers per hour.
He said that safety levels are assessed and tested by car designers with all details provided by them in their technical drawings.
Toyota is the largest carmaker in Vietnam and its products are best sellers in the Vietnamese car market. It was established in September 1995 and sold 2,223 units by February 2011.
The Innova model in particular is a popular model in the country, used widely by many taxi companies.
Related articles:
VR promises a thorough investigation of Toyota cars
Toyota Vietnam admits technical flaws