The Vietnam Pangasius (tra fish) Association on September 6 raised its objection to the US's preliminary decision on imposing anti-dumping taxes on imported Vietnamese tra fish.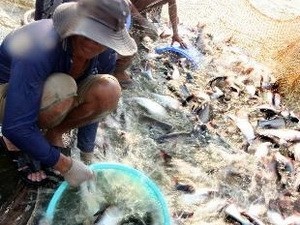 (Photo: VNA)
It said the US Department of Commerce (DOC)'s decision to use Indonesia as a proxy country is not appropriate since the country does not share the same GDP level or the same methods to farm tra fish.
The DOC's new decision not only makes Vietnam bear irrationally high tax rates but also badly affects the whole pangasius farming sector in Vietnam.
According to the association, over the past years, Vietnam's tra fish products have had to incur the growing anti-dumping tax from the US. It impacts on the consumption of Vietnam's fish products in the country and is against the comprehensive partnership model being built by the two Governments.
It asked for reconsidering the decision and keeping Bangladesh as the proxy country to value tax.
Earlier on September 3, the DOC announced the preliminary decision on its recent ninth administrative review on imposing anti-dumping taxes on imported Vietnamese tra fish.
Accordingly, the fish products exported to the US from August 1, 2011 to July 31, 2012 will be subjected to anti-dumping taxes.
On September 5, the Vietnam Association of Seafood Exporters and Processors (VASEP) voiced in protest against the DOC's decision.