Dong Van Lam, deputy chairman of the People's Committee of Tra Vinh Province, on Jan. 27 said the province had granted three investment licenses to the Ha Long Investment  Development and Commercial Joint Stock Company having a total registered capital of VND24,500 billion (US$1.2 billion).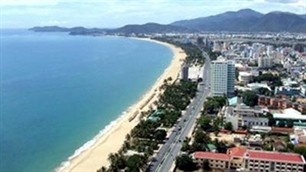 File photo
These will be the first projects to be licensed in the newly developed Dinh An Economic Zone.
The three projects include development of infrastructure for Ngu Lac Industrial Park, Duyen Hai Urban Area and Dan Thanh 2 Resettlement Area.
Earlier, Prime Minister Nguyen Tan Dung had approved a plan to develop Dinh An Economic Zone over 39,000 hectares of land with 42 kilometres of coastline.
The Dinh An Economic Zone will include areas for industrial production, trade, services, tourism, agriculture, forestry and fishery. Ports, roads and other facilities for education, vocational training and research will be built within the zone, which is designed to boost Tra Vinh's economy, presently one of the poorest provinces in South Vietnam.
Dinh An Economic Zone will open up many opportunities for socio-economic development in the region as well as in the Mekong Delta as a whole.
The province will create favourable conditions for investors to operate effectively and contribute to improving the living standards of local people, said Lam, deputy chairman of the provincial People's Committee.