July 1 was the first day of an agreement to trace the origin of five types of fruit, including longan, litchis, bananas, dragon fruit and watermelon, to be exported from Vietnam to China and vice versa. SGGP was present at various northern border posts to capture trading activities and the effects of the new agreement.

From early morning, hundreds of small and large container trucks carrying various kinds of fruit were parking in lines at Tan Thanh Border Gate, Lang Son Province. They were waiting for their goods to get through custom's clearance before transporting them into China.

The same scene could be seen at the other side of the gate in China, where long lines of trucks carrying apples, pears, grapes and melon were waiting for their turn to get through the same formalities.

Long, a Vietnamese truck owner, from Bac Giang Province, said that after getting through customs clearance, imported fruit from China will be transported to Long Bien wholesale market in Hanoi, from where they will be distributed to markets in the south.

He added that at present the volume of fruit imported from China to Vietnam is larger because it is now at the end of the harvest season in the country.

Phan Van Giau, driver of a container truck, who had transported over 20 tons of exported dragon fruit to China, said, "We didn't have any trouble with the clearance formalities, as all of the fruit was packed in carton boxes with labels providing detailed information about origin, expiry date and address of producers."

Such information had been registered with the Ministry of Agriculture and Rural Development, as required, he added.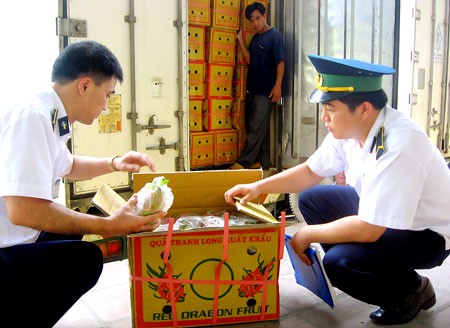 Customs officers check the quality, origin and label of Binh Thuan dragon fruit before allowing it  exported to China
Pham Thanh Binh, deputy head of Tan Thanh Plant Quarantine Station, stressed that not only tracing of the origin of fruit, Chinese customs also check the residue of pesticides, fertilizers and other substances, as well as the presence of insects or pests in fruit and agricultural produce.

Tran Van Nghia, deputy director of the Tan Thanh Customs Department, revealed that since the beginning of the year, fruit trading activities between Vietnam and China have enjoyed a boom thanks to the implementation of the framework agreement on comprehensive economic cooperation between ASEAN countries and China, which sets a zero rate of import duty on fruit and agricultural produce.

As a result, the volume of imported fruit between the two countries over the first six months of the year increased by 122 percent over the same period of last year.

Mr. Nghia pointed out that the implementation of the agreement will be a good opportunity for Vietnamese producers to build their prestigious brands. And on the other hand, it helps Chinese consumers to feel secure while eating Vietnamese fruit.

Since the requirements will be applied not only to Vietnamese, but also to Chinese exporters, both sides will benefit from the agreement because this helps improve the quality of exported produce and, therefore, increases export volume between the two countries, he added.

According to the latest reports from Tan Thanh Customs Department, nearly 100 trucks transported fruit from Vietnam to China on July 1, each carried some 15 tons.

About 70 trucks transported various fruit from China to Vietnam on the same day.

Yet, not all Vietnamese producers are ready for the implementation of the new agreement.

Along the two sides of the road running through Dong Dang Town in Cao Loc District, Dong Dang Province, are hundreds of purchase stations whose workers were packing thousands of tons of dried litchis.

Many stations were discovered to not have labels in conformity with regulations set by the Department of Agricultural and Rural Development. Found on the labels were simple lines that indicated "Dried litchis" and "Made in Vietnam."

This shows that many farmers and exporters still lag behind the newly required information.

Their exports will no doubt get stuck at the border gate if the Chinese customs officers strictly check the quality of fruit exports.

However, fruit exports in Lao Cai, Mong Cai border gates in Quang Ninh Province still ran smoothly.