Vietnam and Middle Eastern countries have recently signed trade agreements, paving the way for expanding trade and for Vietnamese exporters to penetrate this new but lucrative market.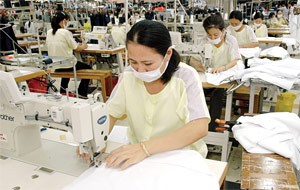 Making clothing for export at Phong Phu Corporation in Ho Chi Minh City (Photo: SGGP)
The Industry and Trade Ministry reports that trade with the Middle East last year was worth US$1.2 billion, including exports of $700 million.
 
It does not include exports to the region via third countries, and is expected to increase by 30 percent this year.
 
The main export items were rice, coffee, textiles, clothing, computers, appliances, footwear, wood products, and seafood, and imports included petroleum, petrochemical products, fertilizers, and steel.
 
The region has been a major buyer of seafood in the last two years, with consumers, especially in the United Arab Emirates (UAE), beginning to show interest in Vietnamese frozen seafood.
 
Sai Gon Trading Group said the Middle East is a new market but is its largest buyer of frozen shrimp and fish fillet.
 
Exports of electronics and wooden products to the region have also been increasing.
 
Vietnam's wooden products are competitive after being exported for long to selective markets like Europe.
 
The Ministry of Industry and Trade said Vietnam's Middle East market is changing – It only traded with Iraq in the past but now counts Turkey, the UAE, Israel, and Saudi Arabia as partners.
 
The two largest importers of Vietnamese goods in the region are the UAE and Turkey.
Dang Ngoc Quang, Vietnam's former commercial counselor in Dubai, said exports to Dubai have soared since Vietnam built a trade center here.
 
But the ministry warned that with the region's economy growing by up to 14 percent a year, Vietnamese exporters would face fierce competition from around the world.
 
Exporters have to improve quality and deliver on time, it further warned.