Trade deficit in May in Vietnam is estimated to reach about US$700 million, with the first five months of the year reporting a deficit of $622 million, accounting from 1.45 per cent of total export turnover in the country.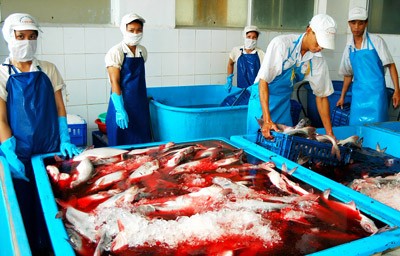 Workers at an export pangasius fish processing plant in the Mekong delta city of Can Tho (Photo: SGGP)
In May alone, export turnover reached $9.1 billion, of which $3.72 billion came from the domestic sector and the remaining from foreign invested sector.
The month's import turnover touched $9.8 billion, an increase of $841 million over April. Of this figure, import turnover of both domestic and foreign invested sectors hit $4.9 billion each.
According to analysts, trade deficit in May increased from an import turnover of the country's main exports like garments and shoes, which increased from $277 million in April to $315 million in May.
Increase in import turnover also showed in commodities like agriculture and industrial products like fertilizers, pesticides, petrol, iron, steel and electronic items.
Meanwhile, export turnover of some main export commodities including rice and coffee saw a reduction of $40 million in May, with a drop in exports of automobile and motorcycle parts by $34 million.
According to the Ministry of Agriculture and Rural Development, seafood exports reached $2.3 billion in the first five months of the year, 9.8 per cent up over the same period last year.
Despite an increase, several businesses faced difficulties with a fall in purchasing power in the European market due to the eurozone crisis.
Seafood exports to the Netherlands reduced by 11 per cent, Germany by 26 per cent and Italy by 16 per cent.
Several Vietnamese businesses have thus lowered the export price of pangasisus fillet for the European market from $2.9-3.6 to only $2.6 a kilogram, aimed to maintain market consumption and recover back capital.
On Sunday afternoon, pangasius fish price dropped to VND23,000 a kilogram, yielding a loss of VND500-1,000 per kilogram for fish breeders in the Mekong Delta.