A significant increase in export turnover in the first eight months of the year has failed to make a similar dent in the trade deficit, as it climbed up to US$16 billion, reports the Ministry of Industry and Trade.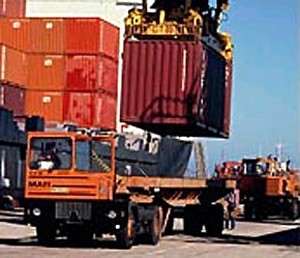 Viet Nam's export turnover reaches US$43.3 billion in the past eight months
The current deficit is equal to 37 percent of the total export turnover.
Viet Nam's export turnover reached US$43.3 billion in the past eight months, a year-on-year increase of 39 percent.
Crude oil continued to retain its top place, fetching US$7.88 billion between January and August. It was followed by the textiles and garments sector with US$6 billion, up 20 percent from the same period of last year.
The export of other industrial products also enjoyed high growth rates, with footwear at US$3.16 billion, electronic appliances and computers at US$1.66 billion, wooden furniture at US$1.8 billion, and rubber at US$1.04 billion.
Agricultural produce made an export breakthrough this year with seafood recording a three-year record increase of 20.8 percent to reach nearly US$2.9 billion; and coffee recording a year-on-year increase of 9 percent at US$1.54 billion.
Rice exports netted a 95 percent year-on-year increase in value at US$2.2 billion. Soaring world prices ensured that the increase came at a 20 percent decrease in volume of 3.4 million tons.
Some new products were exported in the last eight months, including pottery and porcelain items worth US$235 million, toys for US$70 million, and gems and precious metal worth US$736 million.
The export turnover in August was US$6.1 billion, a decrease of 6.8 percent last month.
In the domestic market, meanwhile, the consumption of industrial and electronic products surged sharply from January to August, the ministry says. Truck sales increased 80 percent, passenger cars by 73.6 percent, washing machines by 41.5 percent, refrigerators by 27 percent, and TV sets by 26 percent.
The value of industrial production reached VND 438 trillion (US$26.5 billion) in the first eight months, 16.3 percent above the set target.