The Ministry of Industry and Trade (MoIT) will continue its efforts and implement key initiatives to boost exports in an aim to maintain double-digit turnover growth for the year, MoIT Deputy Minister Nguyen Nam Hai told Sai Gon Giai Phong.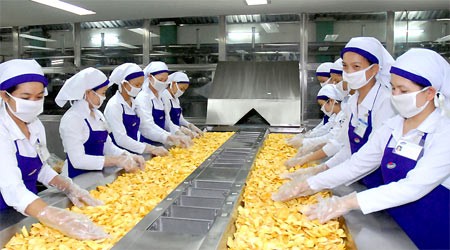 Workers at Vinamit Company make dried jackfruit for export (Photo: SGGP)
According to estimates by the MoIT and the Ministry of Planning and Investment, the total export turnover in H1 amounted to US$32.13 billion, a year-on-year increase of 15.7 percent, of which agricultural and aquaculture export turnovers reached US$6.61 billion, up 8.1 percent year-on-year.
 
The increases were seen in cashew nuts, rubber, peeper, tea and seafood.
 
Processed industrial products boasted turnover growth of 23.7 percent, which translated into US$21.5 billion; meanwhile, 5.6 percent less fuel and minerals were exported, turning over US$4 billion.
 
Some products posted far higher export figures than expected. For instance, precious stones and metals performed well for two consecutive months, grossing over US$884 million in May and US$350 million in June.
 
Turnover for exported gold since early 2010 has surpassed US$1.3 billion, and this metal is among the nine product categories with export earnings topping US$1 billion for the first six months.
 
Export revenue in the first six months has reached 53.1% of targeted goal for all of 2010 (the figures for previous years fell within the range of 46-48%).
 
Deputy Minister Hai said the export sector achieved growth thanks to following close instructions issued by the Government, Prime Minister, relevant ministries and agencies, as well as the efforts of enterprises, adding that the Government's measures to encourage exports and solve difficulties for enterprises have proved effective.
 
The global economic recovery has also helped boost the exportation of Vietnamese products, as the worldwide demand for goods consumption has risen, he added.
 
Measures to maintain export growth
 
Mr. Hai said if the export market continues to see favorable conditions and goods prices do not drop, the year's export turnover growth will possibly remain in double-digits.
 
To boost exports, the ministry has implemented the following measures:
 
First, the ministry has implemented synchronous measures to improve quality and increase value of export products, especially in the fields of agriculture and aquaculture.
 
Second, the ministry has boosted the promotion of exports, seeking new markets and expanding existing ones. The ministry has sought to develop markets that border Vietnam by reviewing and adjusting inappropriate regulations that have limited exports to these areas.
 
Third, the ministry has implemented already signed Free Trade Agreements (FTAs) to take full advantage of these arrangements, and worked with localities and associations to disseminate information on FTAs.
 
Finally, the ministry has collaborated with relevant agencies to organize conferences on exports as part of a bid to solve difficulties in production, business and export and to discuss measures to increase exports for each commodity and sector.
 
Administrative reforms and policies on encouraging exports and restraining trade deficits have continued.
 
The ministry has encouraged enterprises to diversify currencies in payment, develop production of raw materials and auxiliary products and warn them of risks of shifting exchange rates.
 
Solutions relating to funding and power allocation
 
Deputy Minister Hai said the State Bank of Vietnam has operated monetary policies and adjusted exchange rates flexibly according to the market to encourage production and export and create favorable conditions for enterprises to access loans.
 
The ministry has suggested the Central Bank order commercial banks to take measures to raise enterprises' capacity for accessing loans, especially companies that trade and make commodities for export, to help boost export in the last months of the year, he added.
 
Regarding power, he said his ministry has asked the Vietnam Electricity Group to mobilize all resources of the national power system to supply sufficient electricity for production.