The Ministry of Industry and Trade has announced it has begun granting import licenses on a number of goods in an effort to restrain trade deficit.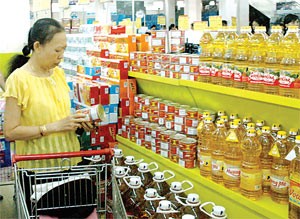 Cooking oil is one of commodities subject to automatic import license
Commodities subject to import licenses are vegetables, coffee, tea and spices, fat and vegetable cooking oil, meat and fish products, sugar, confectionary, cereal and milk products, and drinks and alcohols.
Perfumes and cosmetics, plastics and plastic products, rubber and rubber products, garments and knitwear, porcelain, pottery and glass products, electric generators and equipment, watches, interior decorations, toys, sport equipment, cell phones are also included.
Eligible dossiers of application will be licensed automatically within 10 working days after the Ministry of Industry and Trade receive the valid dossier sets.
The automatic import licensing regulation will be in effect till December 31, 2008, the ministry said.
 
The total import spending reached US$52 billion in the first seven months. Spending for many imported goods soared sharply compared to last year. For instance, steel import increased by 96.6 percent, fertilizer 118.9 percent, and automobiles 200 percent.
 
The ministry said it is hard to control total import spending at US$5.9 billion per month until the end of this year.