Viet Nam needs to build more infrastructure and apply the "one-stop" policy at the border crossings with Cambodia to facilitate its exports to the neighboring country, according to a Trade Ministry seminar in Ho Chi Minh City yesterday.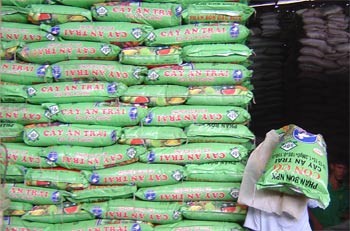 Fertilizer is one of Viet Nam's key exports to Cambodia (Photo: Hoang Yen)
To increase the volume of freight going to Cambodia, alternative means of transportation are needed rather than relying solely on boats and trucks.
 
Also mentioned was the fact that Viet Nam's customs procedures at the border crossings are conducted rather slowly compared to Thailand's.
 
Pham Hoang Ha, director of the Ho Chi Minh City Department of Trade, pointed out that some Thai products were outselling their Vietnamese competition in Cambodia.
 
For instance, 42 percent of the cosmetics sold in Cambodia come from Thailand, nearly double the 23 percent from Viet Nam. With fertilizer, the corresponding ratios are 45 percent and 35 percent.
 
Last year Viet Nam earned US$770 million from exports to Cambodia, the most important being petroleum, steel, iron, instant noodles, plastic goods, fertilizer, cosmetics and cleaning agents.
 
In the other direction, Cambodia's exports to Viet Nam earned US$230 million.
 
The Trade Ministry's target is to increase this US$1 billion in two-way trade to US$2.3 billion by 2010 and US$7 billion by 2015.
At the seminar, the leaders of provinces along the 1,137-kilometer border with Cambodia affirmed that it was a very important market, and one where Vietnamese companies held an advantage thanks to the similarities in consumer habits and demands.