Minister of Industry and Trade Vu Huy Hoang has called on the agriculture ministry and other agencies to prevent smuggling of rice into Vietnam from neighboring Cambodia.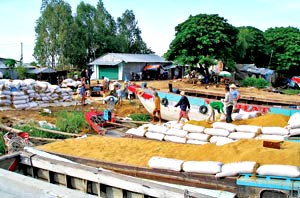 Smugglers at the Tinh Bien border gate in An Giang Province ready to load Cambodian paddy for transport to other provinces
It is estimated that 1,000 tons of Cambodian paddy have been illegally entering southern provinces every day in the last two months.
                             
A rice retailer in the Mekong Delta said more and more people prefer Cambodian rice because of its good taste and low prices. It costs VND5,000-6,000 per kilogram.
 
Huynh The Nang, deputy chairman of the An Giang Province People's Committee, complained about the fact that in the delta high-quality rice is only grown for export.
 
He said it is time provincial authorities switch their attention to local demand.
 
Agricultural and trade authorities should reconsider the structure of rice exports and local markets and come up a proper plan to boost the upcoming winter-spring crop output to serve both markets, he added.