Trade promotion programs are considered an effective means to help firms increase exports amid the present economic slump, yet most firms are avoiding such programs.
Many firms in the wood furniture industry have decided to participate in 'Life Style Vietnam 2013', a home décor, gift and household goods fair in Ho Chi Minh City, instead of joining a trade promotion fair in Panama, with both taking place at about the same time towards end of April.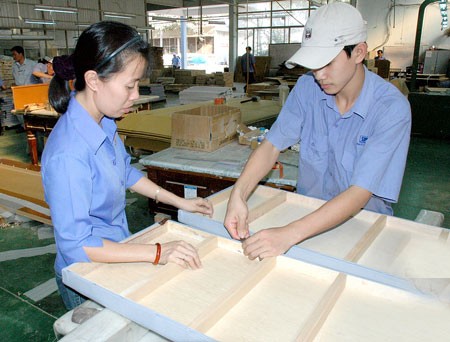 Workers make wooden furniture for export at Satimex Company. (Photo: SGGP)
Nguyen Manh Hung, a representative of a wood furniture company in Ho Chi Minh City, said although the Government will support a part of travel costs to Panama, firms still have to spend on hotel and other expenses. Firms now face tighter budgets hence they chose to participate in the local fair.
Every year, departments such as Vietnam Trade Promotion Agency under the Ministry of Industry and Trade, and Ho Chi Minh City Investment and Trade Promotion Center (ITPC) organize many trade promotion programs in foreign countries to help local firms maintain a relationship with traditional clients as well as seek new clients.
For instance, ITPC alone has many trade promotion programs in Cambodia and Myanmar each year. However, in reality, these programs have gradually discouraged firms as they did not produce great results.
Most firms said that trade promotion programs rarely focus on only one field or sector while the cost for participation is high.
Nguyen Bao, Vietnam's Trade Counselor in Australia, also shared that trade promotion programs mostly do not bring the desired results. He suggested that the Government invite importers from other countries to Vietnam so as to save cost for local firms and help foreign importers learn first hand about local businesses.
Nguyen Ba Hoc, former chairman of Vietnam Cashew Association, also shared the same point of view as  Bao. He thought that organizing trade promotion programs in foreign countries is good but as for some key industries of the country, the Government should organize fairs in the country and invite foreign importers to Vietnam.
Meanwhile, trade promotion organizers explained that because expenditure for trade promotion by the Government was declining in recent years, such programs failed to yield great results.
According to Mr. Bao, amid economic difficulties, a trade fair model like Life Style Vietnam, which is held by the Vietnam Gift and Housewares Association (Vietcraft) and the Vietnam Trade Promotion Agency (Vietrade) in April every year and currently one of the well-known fairs in the country, should be applied widely in Vietnam.
Mr. Bao said that before each trade fair, Life Style Vietnam's organizers usually contact commercial counselors to ask for help in popularizing this program to local firms. In 2012, Life Style Vietnam attracted 1,535 import companies from 25 countries and the contract value signed on the trade fair was around US$16 million.
Le Ba Ngoc, general secretary of Vietcraft, said that Life Style Vietnam succeeded because its exhibitors were chosen carefully. The exhibition was combined with impressive customer service that could meet every specific query from every importer.
In addition, exhibitors in Life Style Vietnam can also attend conferences on the US, Japan, and European markets delivered by foreign experts while foreign visitors can have a chance to participate in free field trips to manufacturing plants.
Some Vietnamese commercial counselors said that mass media plays an important role in popularizing made-in-Vietnam products so the Government should also invite foreign media companies to local trade fairs.
Of course, this does not mean that all trade promotion programs were ineffective and wasted. Trade promotion is necessary but it should be organized without causing an expense burden on both firms and the Government and focus on achieving results.