Traditional markets play an important role in introducing commodities to consumers, according to a recent survey by the Business Association of High-Quality Vietnamese Goods.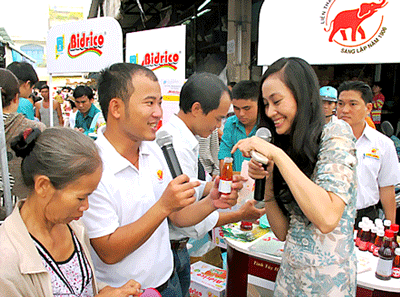 'Vietnamese Goods' ambassador, actress Hanh Thuy, tasting fish sauce made by the Lien Thanh Company at a traditional market (Photo: SGGP)

The survey says that more than 72 percent of consumers choose commodities from traditional markets and supermarkets, trading centers, electronic trade and convenient shops in the two big cities of Hanoi and Ho Chi Minh City accounting for 30 percent of retail commodities and services.
Therefore, it would be a big mistake if enterprises only focus on placing products on supermarket shelves but ignore traditional markets, especially in present difficult times.
Understanding this rule, Vinamilk, Trung Nguyen Coffee Corporation, Bidrico Company, Duy Tan Plastic Company, My Hao Cosmetic Company, Lien Thanh Fish Sauce Company, Tai Ky Food Powder Company and Sun House Group participated in a program called "Ngay Vang Hang Viet" (Golden Days for Vietnamese Goods) to link up producers and traders in traditional markets.
The program started in May, 2012. Beforehand, sale and marketing teams of businesses set up detailed plans to directly supply goods to traders and customers in traditional markets.
After two months, the program was a huge success. Le Hoang Thanh from Bidrico Company said when the company had not joined the program, products of the company in traditional markets accounted for only 15 percent sales but now it's 80 percent. Moreover, the company opened 56 more stores, much beyond their expectations.
 
Thanh said Bidrico will take part in the second phase of the program which will focus on customers' real needs, launch more promotional campaigns and issue more remuneration to traders in traditional markets to make them feel attached to the company's development.
Ngo Thi Hoang Mai from Lien Thanh Company said competition in the current context is very fierce as foreign invested companies overwhelm the media by way of aggressive advertising.
As for the government, Huynh Khanh Hiep, deputy head of the Department of Industry and Trade, said it will support enterprises by upgrading traditional markets and re-arrange so that traditional markets can attract more customers.