Many representatives from transport businesses in Ho Chi Minh City on Wednesday complained of the inconveniences incurred by the road maintenance fee, particularly during the present economic recession.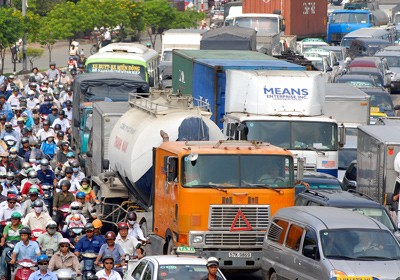 Transport businesses object to the high road maintenance fee while the infrastructure of roads yet improved (Photo: SGGP)
They were speaking at a seminar, hosted by the HCMC Cargo Transport Association and the Vietnam Freight Forwarders Association (Viffas) to discuss matters such as the road maintenance fee.
According to Viffas, Vietnam has over 1,000 forwarding agencies.  They will be directly affected by the road maintenance fee as the Ministry of Transport has proposed very high toll rates for trucks, container trucks and semi-trailer trucks.
The highest rate will be VND1.44 million a month for trucks and container-lorries of more than 27 tonne capacity.
At the seminar, several transport businesses proposed to the Ministry of Transport to change some irrational regulations in the Decree issued for the road maintenance fee.
Do Xuan Phu, a representative of the Minh Lien Transport Company said that it is irrational to charge road maintenance fee on both tractor and trailer of a semi-trailer truck.
Le Thanh Thao from Quang Chau Forwarding Company said the collection of the road maintenance fee via periodic registration will be a major problem for transport enterprises. This regulation might lead to several of them avoiding periodic registration.
Sharing the same viewpoint, Tran Huy Hien, Viffas secretary-general, said that the ministry should not charge road maintenance fee in advance via periodic registration. He proposed to impose the fee when vehicles travel on roads.