The Ministry of Finance on Tuesday announced that transport companies have cut fares and freights in Hanoi, Ho Chi Minh City and Da Nang after conducting an inspection over transport fee management in these cities.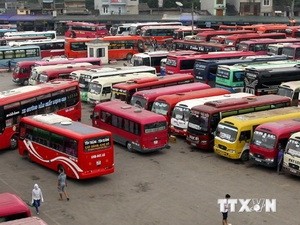 Southern Hanoi Bus Station. Many transport companies have cut their fares and freights after ten consecutive reductions in petrol prices in Hanoi, Da Nang and HCMC (Photo: VNA)
Businesses in Hanoi have lowered the fees as per instruction by Price Management Department under the Ministry of Finance.
 
Taxi and bus companies have reduced their fares by 2-10 percent and 5.8-10 percent respectively. Cargo transport firms have lessened freight rates by 3.4-3.9 percent.
 
In HCMC, several taxi firms have posted a reduction of 2.7-9 percent. Reduction rates swing from 2 percent to 11.33 percent for passenger transport services.
In Da Nang, taxi fares have fallen 3-32 percent while freight rates have been lowered by 3.2-6.7 percent.
Related article:
Petrol prices reduce sharply