Four inspection teams have been set up by the Ministry of Transport to supervise transport fees among transport enterprises as fuel prices continue to drop, already two times in the first month of the year.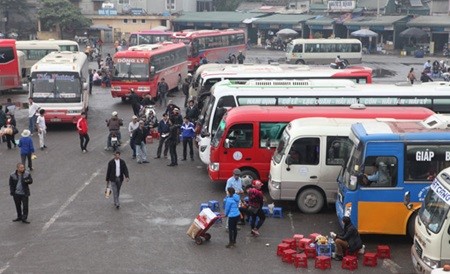 Coaches at the Southern Coach Station in Ha Noi. Four inspection teams will supervise transport fees among transport enterprises as fuel prices continue to drop. The price has already decreased twice in the first month of the year.— VNS Photo Truong Vi
Thai Van Chung, General Secretary of HCM City Transport Association, said that while many transport enterprises managed by the organisation have reduced their fares from 10 to 15 per cent following drops in fuel price, 70 other enterprises had yet to make any cuts.
Chung said these enterprises cited many excuses for not having done so.
"They said traffic jams or long lines at toll booths caused their vehicles to consume more fuel," Chung said.
The Ministry of Finance requested in December that central provinces and cities ensure that fares matched fuel price's downward regression.
Several representatives from the ministry reported that many enterprises, however, had refused to publicize what their new fares would be.
The General Secretary said that transport fares are regulated by the market and authorities could only encourage enterprises to reduce their fares.
The most recent document issued by the Ministry of Transport sets up inspection special teams aimed at tackling the issue of unresponsive enterprises.
Nguyen Van Huyen, General Director of the ministry's Directorate for Roads, said enterprises have to declare with the ministry the specific inputs and costs to justify their fares. When fuel price goes down, it is largely assumed that fares would reflect this change.
"If an enterprise does not reduce their fare, it means they made a false declaration of their fare components, and that means they didn't pay taxes properly and need to be examined," Huyen said.
Huyen publicly announced names of enterprises that had failed to reduce transport fares so that customers can make their own decision about whether to enlist their services.
"It might be appropriate at this time to consider boycotting such enterprises," Huyen said.
Meanwhile, the finance ministry suggested stronger punishment, fining those who do not reduce their fares.
Since November last year, taxi firms have reduced fares by VND500 to 1,000 (2.4 to 4.8 US cents) per kilometer. Other types of transport companies have also lowered their rates by 10 to 15 per cent.
On January 6, retail petrol prices were cut by VND310 (1 cent) per litre. Prices for a litre of RON 92 and E5 gasoline were slashed to VND17,570 (US$0.81), while the price of diesel was reduced to VND16,630 ($0.77) per litre.
On January 21 the prices dropped again. RON92 dropped by VND1,897 per litre; diesel by VND1,459 per litre; fuel oil by VND1,494 per litre; and mazut oil by VND1,078 per kilogram.