Ten of thousands of liters of petrol is smuggled to Cambodia everyday from the Mekong Delta province of An Giang. The smugglers start work at the crack of dawn in the border town of Tinh Bien when trucks with Cambodian plates begin waiting to buy petrol.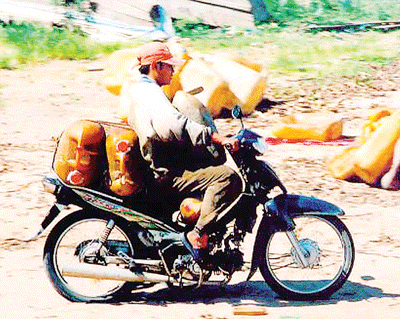 A smuggler uses a motorcycle to transport petrol through the border crossing in An Giang
A smuggler says that despite a recent price hike in Viet Nam, he can still make a big profit. For many, petrol smuggling is their only way to eke out an existence.
Selling oil generates more profit than does selling petrol. They earn VND70,000 (US$4.20) for a 30-liter can of oil.
Smugglers usually gather in Tan Khanh Hoa, Phu My, and Phu Loi communes. In this area, the frontier is the 30 meter-wide Giang Thanh River. Hundreds of cans can be smuggled across the river in an hour.
To cope with the border guards, law violators pay farmer to use rice fields as shortcuts. Some gas stations are so greedy they won't sell during the day so that they have more to sell to smugglers at night. In the evening, smugglers line up in front of station for a chance to buy.
Some stations owners are willing to provide thousands liters of petrol to smugglers who will pay a higher price.
To curb speculation, the Ministry of Industry and Trade has sent its men to stations to check whether any station refuses to provide service on its own initiative while it still has adequate petrol in its storage tanks. Any station that violates this rule risks a suspension of its business license.
Although the illegal activity is disorganized, law enforcement has confiscated nearly 2,000 liters of petrol in a half month. Although smuggling has been discussed in the media for years, the authorities have not yet come up with any effective countermeasures.