Tuna products of Vietnamese enterprises have sometimes been returned after export for contaminating with microorganisms. As a result, a project has been approved to build a clean water system for tuna defrosting at Hon Ro Fishing Port in Nha Trang City, Khanh Hoa Province.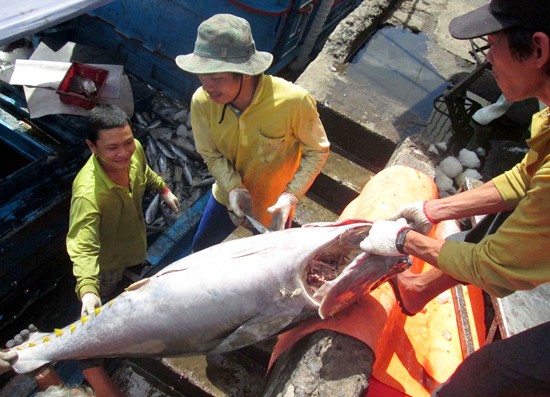 Tuna is one of major seafood exports of Vietnam (Photo: SGGP)
The South Central seafood market is located in the Hon Ro Port's precinct. About 15 traders have been purchasing tuna from boats landing at the port for exports to the US, Canada and some European nations.

In peak times, tens of tuna fishing boats land at the port hence fishermen need a huge volume of purified brackish or seawater for defrosting tuna after it is taken out from ice holds.
However, the port has not had a clean water system for this process. The fishermen thus use seawater from the quay area, where wastewater from the market runs into, to defrost their fish.

That has resulted into microorganism-contaminated fish. As a result, authorized agencies have approved a VND41 billion (US$1.93 million) project to upgrade the Hon Ro Port including installation of a clean water system for defrosting tuna as per proposal by the port authorities.