After tireless efforts of the textile-garment field, the textile-garment export turnover still can't reach the target of US$5.2 billion in 2005 (It is only US$4.85, increasing about 10% in comparison with 2004).
At a meeting between the Ministry of Trade and nearly 200 textile-garment enterprises held in Ha Noi on December 12, many imperative matters about the management mechanism in the country were analyzed as an obstacle for the growth of this field…

Lots of enterprises' petitions have not been resolved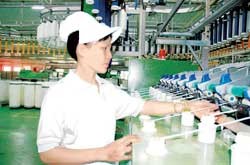 Newly invested factory of Phong Phu textile company. (Photo: Thanh Tam)
According to the Deputy Minister of Trade, Le Danh Vinh, the concrete management of categories, which are controlled by quota, is more effective than 2004 though there have been two basic difficulties.
Firstly, customers sign contracts with other countries instead of Viet Nam because those countries are not under quota limits.
Secondly, Viet Nam has been late in extending treaties in the end of this year, so the quotas of 2006 can't be advanced when the ones of 2005 were used up.

However, Deputy Minister of Industry, Bui Xuan Khu, a member of the Management Board, is not satisfied with the management of textile-garment quotas in 2005. Lots of enterprises' petitions have not been resolved, he said.
Though the Textile-Garment Section has worked day and night, the results don't meet enterprises' requirements." said Bui Xuan Khu.
Vice Director General of the Viet Nam Textile – Garment corporation (Vinatex), Doi Thu Thuy, complained that there are lots of circulars and legal documents, most of which have positive contents, but they are carried out too slowly, affecting import-export activities.
Bui Xuan Khu also presented problems which are caused by this "indirect" management. Many enterprises want to meet with relevant authorities directly to ask for concrete explanations on puzzling matters which the legal documents fail to detail.

2006: 100% automatic visas granted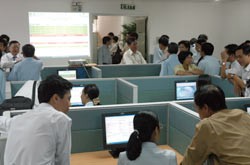 Customs officers are guiding enterprises on e-customs clearance. (Photo: Tu Hai)
Automatic visa-granting has been implemented by the Ministry of Trade since mid-2005. It is appreciated as being effective in using up all quota sources, giving businessmen more chances to access quotas, speeding up export and limiting quota speculation.
This mechanism will be extended to 100% of all categories. Concretely, Trade-Industrial inter-ministry will consider the project on automatic visa-granting from January 1, 2006.
When 50% of categories are granted automatic visas, Ministry of Trade will make an adjustment. Then, achievements of both 2005 and early 2006 will be considered.

Mr. Le Danh Vinh added that enterprises who have registered the Guarantee Fund will be granted quotas soon in the beginning of 2006, so that they can make production plans on their own initiative and sign contracts with buyers.
Afterwards, enterprises who don't register the Guarantee Fund will be granted automatic visas.
The Inter-Ministry will supervise the plan implementation monthly and quarterly and get back the quotas from enterprises, even those registering the Guarantee Fund, to grant to enterprises which make real production and urgent deliveries.
This is to encourage enterprises to use quotas quickly.