Although Viet Nam's insurance industry has a rather high growth rate and turnover, experts still say that it lacks qualified human resources. This could lessen the possibility of development of the industry.
 
Insurance turnover increases by 18%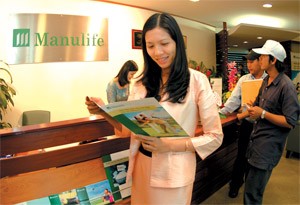 Customers learn about insurance services of Manulife Vietnam company
According to the Ministry of Finance (MOF), the total insurance turnover amounted about VND8,000 billion in the first six months of the year, 18% year-on-year increase. The turnover is expected to reach VND17,000 billion on the year, occupying 2.5% of the year's total GDP.
 
The insurance market has grown at an average of 29%-30% in recent years, from occupying 0.37% of the GDP in 1995, up to 2% in 2004.
 
Viet Nam's insurance market is still young, with only 10 years under its belt, and is currently home to as many as 28 enterprises of all economic sectors participating in the insurance business, including five state-owned enterprises, seven joint-stock, six joint-venture, and ten 100% foreign-owned companies.
 
The presence of around 30 representative offices of foreign insurance firms in Viet Nam also helps improve the investment environment, inspiring confidence in other foreign companies considering investment in Viet Nam. 
 
Head of the MOF's Insurance Department Le Quang Binh said the entrance of foreign insurance firms has forced local insurance firms renew their management mechanisms and create new services to attract customers.
 
Competition is now fiercer, and companies have risen to the challenge.
 
Viet Nam Insurance Corporation (Bao Viet) still keeps affirming its position in the insurance market with a market share of over 40%.
 
However, in order to make full use of insurance industry's role in long-term capital mobilization for the country's economy, boosting the international economic integration, legal frameworks for insurance operation needs a timely adjustment and complement to ensure a sustainable and strong development for the insurance industry, said Mr. Binh.
 
Weak human resources in Viet Nam's insurance industry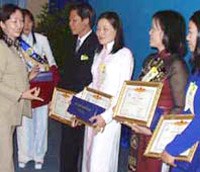 Viet Nam Insurance Corporation (Bao Viet) commends employees for a job well done.
Human resources are one of the factors supporting the insurance industry's development.
 
Together with other factors, such as financial capacity, development of related sectors like securities market, statistics, human resources will boost or block the competitiveness of the insurance industry in the coming integration.
 
The reason is that Viet Nam's insurance industry started to operate according to market economic regulations only from 1993 though the industry had existed in Viet Nam for a long time.
 
Association between training and market is a very important factor in insurance education as it is a specific occupation.
 
A statistic report of a program on studying competitiveness and impact of the service trade liberalization in Viet Nam showed that education on insurance at universities is still impractical in general.
 
In reality, some universities have provided regular education on trade insurance with a number of 300-400 students every year. They are Ha Noi National Economics University, Ho Chi Minh City Economics University and Financial Institute.
 
Viet Nam Insurance Training Center is planned to open in 2007. This center will train insurance personnel to meet the demand for professional insurance personnel of the Viet Nam's insurance market.
 
In order to deal with the lack of professional personnel, most Vietnamese insurance firms currently have to study and operate according to the ways of foreign-invested insurance firms in service design and setting insurance premium.
 
According to experts, those measures are just for temporary deals as they can only help firms exist, but not provide an impetus for development.