In the first half of the year, Viet Nam's export activity saw great improvement; the six main export goods reached US$1 billion in turnover. Those goods include aquatic products (US$1.65 billion), crude oil (US$3.75 billion), coffee (1.2 billion), garments (US$3.4 billion), footwear (US$1.93 billion) and wooden furniture (US$1.12 billion), the Ministry of Trade reported.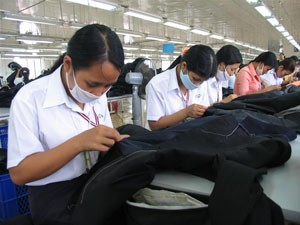 Garments export sees a rise in quanity and turnover.

Notably, in the second quarter of 2007 turnover by Viet Nam's export enterprises reached US$ 4.1 billion, exceeding the average monthly rate and helping to push the first 6 months' turnover up to a total of US$22.5 billion, an increase of over 19.4% in comparison to the same period last year.

Other export goods including rubber, electronic appliances and rice have also seen a rise in quantity and turnover and although these items have not reached the "US$ 1 billion of turnover" goal like last year, the export growth rate is still very encouraging. Rubber, which has a high value, has reached a turnover of US$527 million, electronic appliances reached US$935 million and rice has reached US$731.5 million.