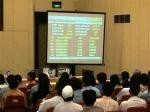 The Stock Exchange in Ho Chi Minh City (Photo: Tuong Chau)
Shares of Kinh Do Corporation, a food and confectionary maker and Nhi Hiep Brick and Tile Company marked debut in December.
Kinh Do, based in Ho Chi Minh City, listed 25 million shares at VND10,000 per share. The trading code is KDC. Nhi Hiep, based in the southern province of Binh Duong, added nearly 1.34 million shares, to be coded NHC.
The State Securities Commission said on its website that it had granted a license to Ha Tien Transport Co. to list 4.8 million shares.
The commission has also issued its first license to a foreign-invested firm, Taya Viet Nam Electric Wire & Cable Co., an affiliate of Taiwan's Taya Electric Wire & Cable Group.
In March 2005, an over-the-counter market was launched in Ha Noi offering easier listing requirements for smaller companies.
The Vietnamese government has been striving to expand its capital market to meet rising investment demand in an economy growing more than 7% percent per year. The country aims for annual growth of between 7.5% and 8% in the next five years.
The State Securities Commission website is www.ssc.gov.vn.