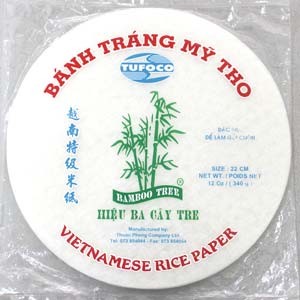 "Bamboo Tree" rice paper made by My Tho-based Thuan Phong Company, whose trading name is Tufoco (Photo: SGGP)
Thuan Phong Company, a manufacturer and exporter of Vietnamese rice paper, has filed a suit against Safoco Company because the latter had made products with a similar image to ship to America.
Thuan Phong, whose trading name is Tufoco, based in My Tho City, Tien Giang Province, produces rice paper for export with a BAMBOO TREE brand, registered at the Intellectual Property Department of Vietnam. It has registered this brand in the US market and other foreign markets.
Not long ago, Tufoco found a kind of Vietnamese rice paper in the US with a similar image of bamboo. The product is made by Ho Chi Minh City-based Safoco.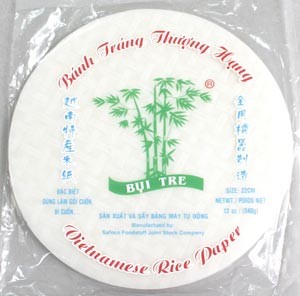 "Cluster of Bamboo" rice paper made by Ho Chi Minh City-based Safoco (Photo: SGGP)
The Safoco label also includes three bamboo trees like the Tufoco label. Instead of BAMBOO TREE, Safoco prints BUI TRE, which means cluster of bamboo. However, the image is similar, also bamboo trees.
Tufoco chairman Pham Van Tu said, "We don't understand why such a big company as Safoco makes copycat goods. This violates the Intellectual Property Law and is a kind of cheating in labeling.
He added that after finding the copycat goods, his company came to meet with Safoco management on September 30, asked Safoco to stop making this rice paper and to recall the product. However, more than two weeks later, Tufoco found that a batch of many tons of Safoco rice paper not being recalled.
According to Tufoco chairman Tu, Safoco management was determined not to excuse and did not reply a Tufoco notice of the case.
Another fact is Safoco has raised its voice against copycat goods.