The Ministry of Transport has approved Uber Vietnam's pilot project on science and technology application to assist management and passenger transport connection by contracts after the company's representative committed to comply with Vietnam's regulations in trading operations.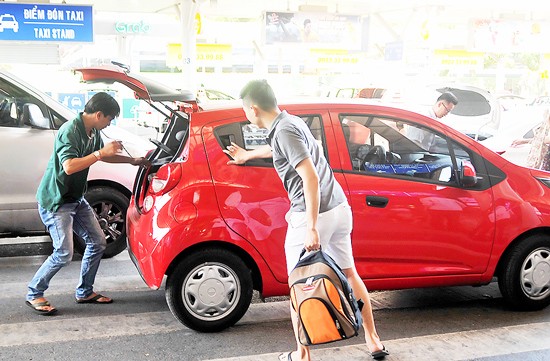 An Uber cab picks up passengers in HCMC (Photo: SGGP)
At a working session with the ministry yesterday afternoon, Uber Vietnam committed to supplement short contents into the project as per requirements by the ministry. In addition, it will work with ministries and agencies to complete operation registration as per the law.
 
The Hanoi Department of Transport required Uber to soon report its operations in the capital city and the list of organizations and individuals who the company has supplied service.  The agency's inspectors said that handling of Uber Vietnam violations had been difficult because there had no signs to recognize the company's operations.
 
For the recent past, authorized agencies have panelized 22 illegal passenger transport trading cases VND120 million (US$5,274) while unregularized operations by the company in Hanoi might be much higher than that in practice, the Transport Department said.
 
Early this month, Uber submitted the project to the Ministry of Transport but it was rejected for a lack of authorization and validation from it Holland based Uber BV.
 
Talking to Sai Gon Giai Phong recently, deputy Minister of Transport Nguyen Hong Truong said that Uber Vietnam has got business registration certificate in three fields including management consultancy, market research and public probes without relation to supplying or coordinating with private owners of means of transport and firms to trade transport services.
 
The pilot project has not pointed out Uber's rights and responsibilities as a science and technology supplier and transport service provider to passengers as well as had no coordination mechanism to solve customers' complaints. It has yet to register electronic trade service supply application with the Ministry of Industry and Trade.
 
Therefore, the Ministry of Transport did not approve the project and proposed Uber to supplement licenses to expand its operation fields as per regulations.
 
Mr. Truong said that Uber Vietnam had to get licenses and establish transport firms for authorized agencies to manage in all aspects, ensure healthy and fair competitiveness environment for businesses and protect rights for the network's participants as well as service users to continue supplying transport service.
 
The ministry did not ban Uber Vietnam from operating in Vietnam but required it to operate in accordance with registered licenses. If the company wanted to expand operation fields, it must register to supplement that with authorized agencies unless the ministry would handle violations within its jurisdiction, he stressed.
 
The ministry would intensify inspection over transport activities to tackle Uber violations and businesses attending the ridesharing service, he added, warning vehicle owners, transport firms and passengers against the unlicensed field to prevent damage.
 
Meantime, the Government has approved pilot implementation of a similar project by Uber's rival Grab in HCMC, Hanoi and Quang Ninh province. The Transport Ministry will give estimations after the pilot time.