The UK is already the third-largest European Union investor in Viet Nam and, with some large projects lined up this year, will climb further up the list, its envoy in Viet Nam has said.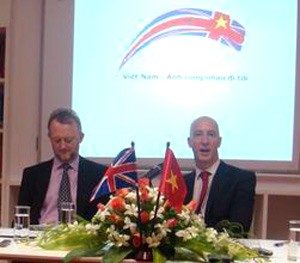 Mark Kent, UK Ambassador to Viet Nam (R) and Keith Davies, director of the British Council at the press meeting in Ha Noi yesterday
British businesses have invested US$1.9 billion in 105 projects, Mark Kent told the media in Ha Noi yesterday while unveiling cooperative plans between the two countries to mark the 35th anniversary of the establishment of diplomatic ties.
 
The new investments this year would be in the finance-banking, energy, telecommunications, mining, and auto sectors, he said.
 
The finance-banking sector, one of the UK's strengths, is vital for attracting foreign direct investment, he said, adding that once the sector develops, FDI, including from the UK, would pour into Viet Nam.
Two leading British banks operating in Viet Nam, Hong Kong Shanghai Banking Corporation (HSBC) and Standard Chartered, have recently been licensed to open more branches in the country. Mr Kent said this would raise the profile of UK banks in Viet Nam.
The two countries have prioritized five areas for cooperation, he said: trade and investment, development assistance, global issues, education, and the fight against illegal immigration and transnational crime.
 
Though the UK ranks third among EU investors in Viet Nam, the potential for cooperation remains unfulfilled, he said.
 
British companies target medium- and long-term investment in Viet Nam and not short-term, he said. The country's current economic difficulties are temporary, and it remains a popular destination for British investments, he said.
 
The UK may not be among the top ten investors in Viet Nam, but its investments are the "most successful," he said, pointing out that British companies are leaders in areas they have invested in.
 
BP Group tops the oil industry while Prudential and HSBC are leaders in insurance and banking, he said.
 
There are plenty of opportunities for bilateral cooperation in energy, aviation, telecom, culture, and education, and many important agreements have been signed, he said.
 
The signing of the Comprehensive Development Agreement would significantly improve trade ties, he said.
 
The ambassador revealed that several high-level British officials are set to visit Viet Nam, including Prince Andrew.
 
Britain's Special Representative for International Trade and Investment would visit in September to strengthen relations, he said.