The price of un-husked rice has continued to soar by VND200-300 per kilogram compared to last week, exceeding the threshold of VND6, 000 per kilogram in the Mekong Delta.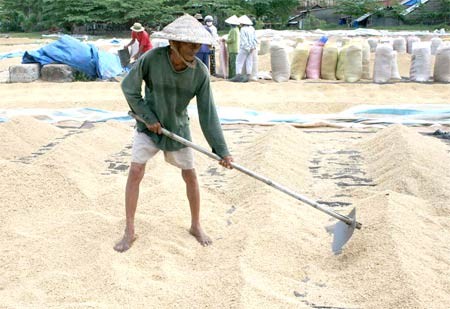 Farmers in the Mekong Delta dry unhusked rice (Photo: SGGP)
IR50404 un-husked rice is currently trading at VND5, 900-6,000 per kilogram on farms in Can Tho City and in Hau Giang, Kien Giang and An Giang provinces whereas high-quality long-grained un-husked rice costs VND6, 100-6,200 per kilogram.
 
Jasmine scented un-husked rice goes for a very high price of VND6, 800-7,000 per kilogram, but farmers are currently out of supplies.
 
At these prices, farmers can profit by VND40-45 million per hectare.
 
So far, farmers in the region have harvested over 80 percent of the total 1.6 million hectares of winter-spring crop.
 
Price of basic unprocessed rice for export has also continued to increase.
 
At Cai Rang rice wholesale market in Can Tho, enterprises bought basic un processed rice to process into 5-percent-broken rice for export at VND8,000-8,100 per kilogram and unprocessed rice to process into 15-percent-broken rice at VND7,900-7,950 per kilogram on April 12.
 
According to enterprises, rice is currently at its highest rate since traders bought rice for storage at the end of the harvest and they also have more export contracts.