United Airlines, the world's second largest airline, has recorded double digit growth in passenger traffic to Viet Nam, the US carrier's general manager in Viet Nam said on Thursday.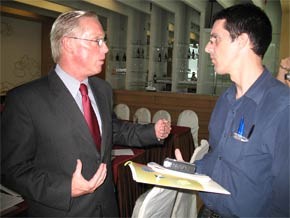 Joe Mannix (L) of United Airlines answers questions from Bloomberg reporter Jason Folkmanis at Thursday's press conference (Photo: Tuong Thuy)
Joe Mannix, who was addressing a press conference in Ho Chi Minh City, declined to give specific numbers, explaining that the information was sensitive because of the competition.

He is upbeat about the prospects for strong business growth in Viet Nam based on the achievements obtained and on the promising signs.
"In the middle of October, United financed a working trip to Viet Nam for eight freelance American journalists specializing in travel. They have checked out what the country has to offer and will promote Viet Nam's diverse tourism features," he said.
"United has been operating in Viet Nam since December 2004, and the number of travelers from the US to Viet Nam has almost doubled since. We are proud to have contributed significantly to this."
United is the only US carrier that flies to Viet Nam, operating a daily service between San Francisco and Ho Chi Minh City via Hong Kong with a Boeing 747.
Because United is expanding other international services, Mannix said, it has no plans to expand its Viet Nam services in the near future even though the country would be joining the World Trade Organization very soon.
In related news, United has picked the Viet Nam unit as the winner of its top On-Time Performance Award for keeping its airplane departures to schedule in September.
Mannix was particularly pleased because United Airlines Viet Nam had won the same recognition in June. "These awards recognized our staff's efforts at Tan Son Nhat Airport," he said.
Related Article
United Airlines Gives On-Time Performance Award to VN Unit


Related Link
United Airlines Viet Nam